Welcome back to tennis
Welcome back to tennis, Aberdeen! Our indoor and outdoor tennis courts are now open.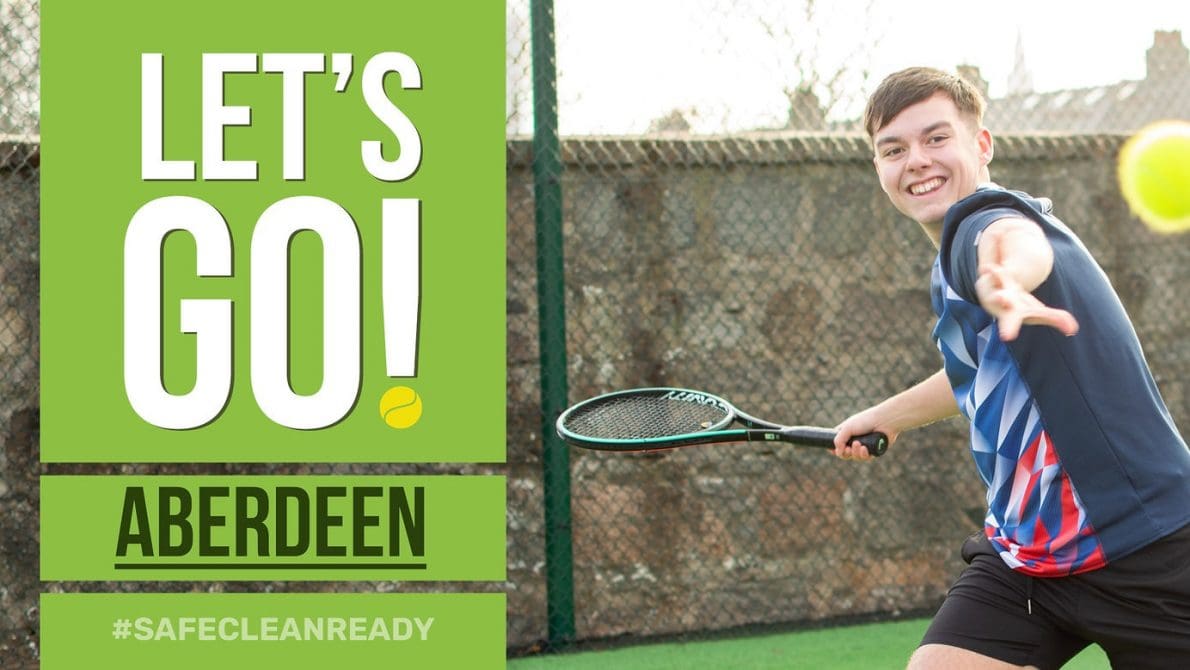 Your Safety
Your safety is always our number one priority. In line with industry and government guidelines we have implemented protocols and procedures to ensure you have a safe and enjoyable visit to Aberdeen Tennis Centre. You can find these summarised below in our protocol document.
Please be aware that, in line with Scottish Government guidelines, it is mandatory for face coverings to be worn inside our venues when you are not taking part in activity (i.e. in reception areas, bathrooms, corridors etc) so please remember to bring one with you. Face coverings do not need to be worn while participating in a tennis match.
Your Bookings
All bookings should be made online via MySportAberdeen or by calling 01224 507748.
Please note that all bookings MUST be made in advance, in line with return to tennis protocols.

Online Booking Registration Process
When registering with MySportAberdeen for the first time please click on 'Log In' and then be sure to follow the correct link to avoid issues with your booking.
If you are a Get active 4 or Get active 5 member – please click on "I am a Sport Aberdeen/Golf Aberdeen member…but I need to create an online account" and register using the email address linked to your membership, and your membership number. This will allow you 7-day book-ahead privileges.
If you are a pay-and-play customer – please click on "I'm a pay and play customer…and would like to sign up". This will allow you 3-day book-ahead privileges and will require for you to pay for your round in advance.
Please take some time to read the user guide to help you make the most of our new MySportAberdeen booking system.
Outdoor Courts – Evening access (18:00 – 21:00)
As the venue will be unmanned in the evening you will be required to enter an access code at the gate to enter the courts. To obtain the code, please call 01224 507746 between 11:00 – 18:00 on the day of your booking, as the code will change daily.
Become a member
Interested in joining us? Our great value Get active 4 membership gives you access to a range of benefits, including 7-day book-ahead privileges!
Aberdeen Tennis Academy
We can't wait to welcome our Aberdeen Tennis Academy participants back!
Specific information on your child's lessons will have been sent to you by email. Before you attend, please take some time to familiarise yourself and your child with the return to tennis safety protocol.
How to apply for lessons and coaching
Apply online now or for more information or to book please contact the Tennis Aberdeen administration team on aberdeentenniscentre@sportaberdeen.co.uk or call 01224 507748 – if engaged please listen to the recorded message.
Tennis Lessons FAQ's
My child is nervous about coming back to tennis, is there anything I can do to help them?
We understand that some children (and parents) may feel nervous returning to the class after such a long break and with some necessary changes in place. Our coaches will do all they can to help ease any nerves when your child returns to the class.
In the meantime, here are a few things you could do at home in preparation:
Speak to your child about what will be different when they come back so they know what to expect.
Remind them that their coach is there to help and support them and it's new for everyone to get used to, they are not on their own.
Don't worry if they feel like they can't remember how to do everything, we will be re-capping on skills.
Most importantly is that we just want them to feel supported, confident and enjoy being back at their tennis class.
Why is my child's class not restarting?
We are looking at a phased return to the coaching programme to ensure we can deliver safely within the relevant guidelines and offer your child an enjoyable return to tennis activity. We will communicate will you as we look to rebuild the different aspects of the programmes.
When will my Direct Debit restart?
Memberships have been reactivated from 1 April, therefore you will be able to access the benefits of Aberdeen Tennis Academy membership from 1 April. If we collected your membership fee in January, this will be carried forward to cover April's fees. In this case your Direct Debit will start from May. For all new memberships, Direct Debit are set up for the beginning of the month.
What if the class we are allocated isn't suitable?
The team have worked hard to take account of your availability as detailed in the recent customer survey. If the class you have been allocated is not suitable please contact us on the details provided and we will find a suitable alternative (subject to availability).
There may be instances where your child's class will need to be further reviewed, either due to age or ability, and this will happen over the first few weeks of the classes operating.
What should we do if my child is showing any symptoms of COVID-19?
Do not come to the venue if you are showing any symptoms of COVID-19 (temperature, cough, difficulty breathing, or anosmia e.g. loss of taste or smell). You can find the latest guidance on NHS Inform www.nhsinform.scot/
People who are symptomatic should self-isolate for 10 days and household members for 14 days as per info on NHS guidance. No one who is self-isolating should attend a sports venue or activity.
Participants must arrive for their session 'class ready', what does this mean?
'Class ready' means having their tennis outfit on when they come into the venue.
For outdoor lessons, please remember to dress for outdoor tennis and bring plenty of water.
When indoor lessons restart, on arrival participants will be directed to go straight to their allocated waiting area and there they can remove any outdoor clothing and wait to be collected for their lesson.
Any belongings should be placed in their bag and either removed by the parent or left in the designated area until the end of their class.
Please note there will be no access to any changing facilities to ensure social distancing can be maintained safely.
What do we need to do when we arrive at the facility?
When arriving for your tennis class at Aberdeen Tennis Cenrtre, please queue up the pathway outside the main entrance. When ready, a member of our Tennis Team will escort you through the reception area onto the allocated court space (indoors or outdoors). One parent can accompany their child but will need to leave via the fire exit doors on court 1. This is the same process as before (Oct-Dec 2020). As restrictions ease, we hope to relax this process and welcome back indoor spectators in-line with guidelines.
In line with government guidelines, relevant participants and visitors to venues should wear face coverings before and after activity in areas of the facility, including outdoors.
Please adhere to the signage and guidance on physical distancing, direction of travel and other risk control measures that are put in place.
Use hand sanitiser/ wash stations wherever available.
Spend as little time as possible in the toilet facilities, whilst following the signage on maintaining safe levels of distance.
Will I be able to watch my child's class?
Outdoor Tennis:
Yes, you can watch the class from the field next to the courts. Please maintain social distancing from others.
Indoor Tennis:
Unfortunately, at this time we cannot safely accommodate spectators for classes within social distancing regulations.
One adult may accompany one child to the waiting area and stay with them until they are collected for their class by their coach. Your child's coach will then assume 'loco parentis' for your child until you return to collect them from the collection point at the end of their class.
We are asking all parents to help us keep numbers of people waiting around the centre down by leaving the building whilst your child is in their class, returning in time to collect them at the end. If your child is eight years and under you must however remain within the venue grounds / parking areas. Please make sure we have an up to date contact number should we need it to contact you during the lesson.
What are the main changes due to COVID-19 that we can expect to see within the classes?
Where possible, there will be a one-way system in place.
Participants, parents and staff will be socially distancing in line with government guidelines.
Coaches will not be allowed to provide physical support for activities. Only activities that are designated safe to take place without support will be delivered.
A reduced programme of classes will be operating to allow for enhanced cleaning requirements, social distancing and reduce footfall at the entrance / exit and in the communal areas.
Coaches will be required to socially distance from the participants throughout the session.
Equipment will only be loaned out in exceptional circumstances. Any equipment loaned out must not be shared and will be cleaned between classes as required in line with guidance.
What will happen after the class?
We would ask you to help us maintain a safe environment by collecting your child and exiting via the designated exit in a timely manner after their class. We appreciate both participants and parents may be keen to catch up with friends and parents, but please be courteous to others and adhere to the latest government advice.
When can I expect my child's assessment to be updated?
In the first few weeks coaches will focus on aspects such as safety skills, re-capping core skills, confidence building, getting comfortable with new methods of operations, travelling and spacing out, as well as enjoying being back in the class of course!
Once your child has had a few weeks to settle back in, coaches will begin to update the online portal assessments. All classes have been uploaded with a new assessment criteria in-line with the new LTA Youth framework.
Our main priority will be ensuring all our participants have a positive and safe experience returning to lessons. We will work with all children to progressively build them up at their pace.
If you as their parent / carer have any concerns, the venue will be happy to discuss these with you to ensure we are fully supporting your child and can allay any fears.
What happens if the weather is bad for outdoor tennis?
In the event of courts being unsafe for play then classes will not go ahead. In this instant, we will contact you using our message system to advise of any cancellation. This decision will be confirmed up to 1 hour before the class start time. The outdoor tennis courts are playable in most weather conditions, a member of a facility team will assess their playability in the event of wet/ icy weather. We have allowed up to 1 cancelled session per quarter. If more than 1 class is cancelled in this period, then the pro rata difference will be refunded to you.