Granite City residents have played their part in celebrating the reopening of Adventure Aberdeen Snowsports by renaming the city's only dry ski slopes.
A competition to think up new names for each of the five slopes was opened last week and winners have now been chosen. The triumphant entrants were announced on Sport Aberdeen's social media channels yesterday (Tuesday 15 September).
After being closed for six months due to Covid-19, the popular venue, run by registered charity Sport Aberdeen, will open its doors again on Monday 21 September.
A body of improvement works has taken place at the Garthdee venue during lockdown and all five dry ski slopes have now been gifted a brand-new name.
All entrants whose suggestions have been selected as the winning names will each receive a free family ski session at Adventure Aberdeen Snowsports.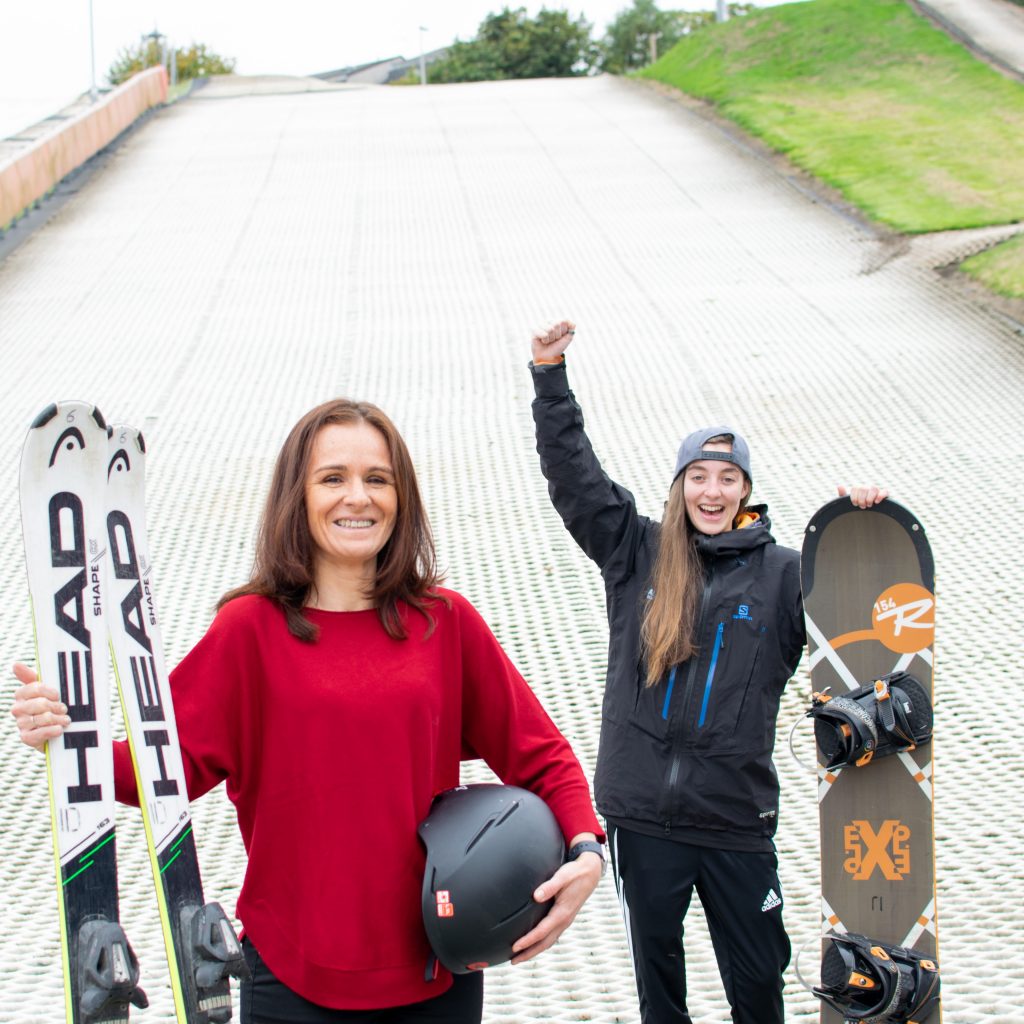 Going forward, the dry ski slopes will now be known as:
Little Dee (Nursery Slope)
Tubey McTubeface (Tubing Slope)
Emerald (Green Denxix Slope)
Blizzard (White Dendix Slope)
Great White (Alpine Slope)
Graeme Dale, Sport Aberdeen Head of Sport and Active Communities said:
"Thank you to everyone who took the time to enter the competition. We had so many brilliant and quirky suggestions sent though, and we all had a very tough job trying to select only five new names. The response was great and now we are just looking forward to reopening Adventure Aberdeen Snowsports after being shut for so long.
"The last few months have been challenging for everyone and we can't wait to welcome everyone back to sport in the city. We have some fantastic facilities on our doorstep, and I am personally looking forward to sending our first customers down Tubey McTubeface next Monday!"
Registered charity Sport Aberdeen has been announced as a finalist for the Northern Star Business Awards, Aberdeen & Grampian Chamber of Commerce's celebration of business success across the region.
The local leisure trust has been shortlisted as a finalist in the 'Making the Difference' category, in recognition of the positive impacts on the Aberdeen community through the work of the charity.
Organised by Aberdeen and Grampian Chamber of Commerce (AGCC), the Northern Star Business Awards recognise the exceptional accomplishments of organisations across a range of fields from innovation, marketing and sustainability to people development and international growth.
Sport Aberdeen is committed to creating opportunities for everyone to take part in sport and has one simple goal; to get more people active, regardless of barriers such as cost, age, ability and gender.
By delivering targeted community initiatives for adults and children with additional support needs, care experienced and looked after young people and people who are experiencing long term and/or life limiting health conditions, Sport Aberdeen ensures that everyone has equal access to sport and physical activity in the north-east.
In the last year the charity:
Gave over 260 free Sport Aberdeen memberships to Looked After Children;
Had 672 additional support needs participant visits recorded by Adventure Aberdeen Snowsports;
Generated £7.5M in social value.
Graeme Dale, Sport Aberdeen Head of Sport and Active Communities, said:
"The last five months have highlighted how important it is for everyone to look after their mental and physical health and it is our belief that leading a physically active life can positively impact everyone. 
This is something that we champion, and we strive to deliver community led programmes which reach everyone, creating opportunities for people of all ages, abilities and circumstances to participate in sport.
This is something that we champion, and we strive to deliver community led programmes which reach everyone, creating opportunities for people of all ages, abilities and circumstances to participate in sport.

Graeme Dale, Head of Sport & Active Communities
"We are thrilled to be shortlisted as a finalist against so many deserving charities and organisations, highlighting all of the hard work that individuals and businesses put in across the north-east. The Northern Star Business Awards ceremony is always a brilliant night and we are very much looking forward to the event next year."
This year saw a record number of nominations submitted for the 12 categories. Winners of the 17th annual awards, held in association with principal sponsor Nucore Group, will be unveiled during a glittering black-tie ceremony at P&J Live on March 11, 2021.
A Sport Aberdeen volunteer who gave up over 1,000 hours of his own time to help inspire others was selected as a finalist for a prestigious national award.
Former Orchard Brae pupil Alex Soaris said he was "totally thrilled" to make it as a finalist in the Outstanding Volunteer(s) category at this year's Community Leisure UK Awards.
The national awards recognise and celebrate the outstanding achievements of charities and social enterprises in public leisure and culture and winners were announced online this year due to Covid-19.
Alex was recognised for his commitment and dedication after he "helped to shape the future for additional support schools and their pupils" through his volunteer work with Sport Aberdeen's Active Schools programme.
Having started as lunchtime helper, Alex progressed further and successfully went through the coach recruitment process, securing a role as a Holiday Camp Leader with Sport Aberdeen, the first pupil from an additional support needs school to take on a coaching role with the charity and an incredible achievement.
Commenting on Alex's achievements, Graeme Dale, Sport Aberdeen Head of Sport and Active Communities said:
"Alex is a trailblazer, not only due to his volunteering but also in helping us develop an additional support needs programme which has created new and exciting pathways into participation and future employment. His hard work, dedication and enthusiasm has allowed him to overcome barriers and excel in this role.
"For the pupils of Orchard Brae Alex is a fantastic role model. An ex-pupil who has worked incredibly hard to be given the responsibility to now coach them and has already motivated a senior pupil to get involved in volunteering.
"Without Alex's commitment it would be almost impossible for Active Schools, part of Sport Aberdeen, to run so many Extra Curricular clubs for additional support needs pupils at Orchard Brae. His energy and enthusiasm have helped to shape the clubs, encouraging the children and their families to return again and again."
Alex commented:
"I'm very proud to be chosen as a finalist for this award. The support Sport Aberdeen has given me has allowed me to become more confident with my leadership skills and specifically my coaching with young children. I hope to be able to continue to improve my coaching and give more opportunities for children to be active."
Sport Aberdeen has become the first in the city to sign up to the 'Scotland Cycle Repair Scheme', a free bike repair and maintenance service funded by the Scottish Government and delivered through Cycling UK.
Adventure Aberdeen, part of the award-winning charity, recently launched its new in-house bike maintenance service and will now be offering limited free places, alongside its full offering, to those who may not usually have access to these services.
The charity has secured funding through the 'Scotland Cycle Repair Scheme' which aims to remove barriers such as cost while encouraging active travel; allowing more people to take part in cycling through access to free bike maintenance.
The Scotland Cycle Repair Scheme offers free cycle repair and maintenance up to the value of £50 per person and welcomes all cycles; adult's and children's bikes, e-bikes and non-standard cycles (tandems, tricycles, handcycles and side-by-side cycles).
Repair and maintenance work will take place at Adventure Aberdeen Kingswells. Details of how to book your place and a full list of services available, with prices, can be found here.
Graeme Dale, Sport Aberdeen Head of Sport and Active Communities said:
"Giving everyone in Aberdeen access to cycle maintenance is an extremely positive step towards seeing more people, of all ages and abilities, take part in physical activity and I hope that our new offering, and the scheme, will be widely used.
"Whether you are a budding cyclist, just starting out or have rediscovered a love for the sport during the lockdown, it is our hope that by enabling, and encouraging, more people to participate in safe cycling we can play our part in creating a healthier and greener Aberdeen."