HOLIDAY PROGRAMME - LEARN TO BIKE - 3-8 YEARS
Event Date:
July 13, 2022
July 13, 2022
July 18, 2022
July 18, 2022
July 27, 2022
July 27, 2022
August 15, 2022
August 15, 2022
Event Time:
9:30 am
1:00 pm
9:30 am
1:00 pm
9:30 am
1:00 pm
9:00 am
1:00 pm
Event Location:
Adventure Aberdeen
Basic bike control lessons for young children. Get tips and hints from our Instructors to bypass stabilisers and gain confidence quickly to carry on after the session. Children can bring their own bike or ride our balance bikes and or bikes. Please remove stabilisers before attending the session.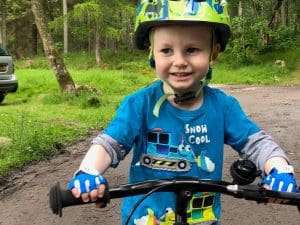 Children do not need to be able to ride prior to the course.
In the past parents have brought along their babies and toddlers, this has proved to be unsuitable as you will need to give your child your undivided 1:1 attention to get the most out of the session.
• Participants are required to bring a snack and no fizzy drinks
• Please bring any required medication

TERMS & CONDITIONS
Once a booking has been made and paid, refunds will only be issued if Sport Aberdeen has cancelled the booking.
Sport Aberdeen, its employees or agents do no accept any responsibility or liability for any loss or damage, such as loss of earnings, loss of income, loss of fees, nor do they accept responsibility or liability for booking being unavailable.
These conditions of use are subject to change at any time without notice. You must check these conditions of use at the time of booking.
The sessions will be running unless you are specifically contacted by the Adventure Aberdeen team. Sessions are run in most weathers and we provide excellent equipment to allow this to happen.

PRIVACY POLICY
Our privacy policy is designed to protect you, the customer by informing you how your personal information is collected, how we look after that information and with whom we share it.
We will only use the information that you may provide to us lawfully in accordance with the General Data Protection Regulations 2018 and the Privacy and Electronic Communications (EC Directive) Regulations 2003.
View Sport Aberdeen's privacy policy – https://www.sportaberdeen.co.uk/sport-aberdeen/privacy-policy/
Register Now: