Encouraging your child to learn to swim is one of the most important opportunities you can give them!
Learning to swim is an essential skill that can mean the difference between life and death. Drowning is the third leading cause of unintentional injury death world-wide and these statistics could be improved if more children were taught to swim at an early age.
In line with the Scottish Government's Physical Activity Strategy 2018, the Aquatics Aberdeen programmes look to develop physical confidence and competence in water from the earliest age.
Classes start from birth and give babies and children the opportunity to experience the joys of movement, and the social, emotional and physical wellbeing that comes through play. Starting from a young age enhances learning, creates happy memories, and forms good habits and positive attitudes which can last throughout their life.
The programme follows the Scottish Swimming Framework which enables your child to work through exciting and progressive stages as follows:
Venues
Our early years swimming programme runs at the following pools:
FAQs
Aquatics Aberdeen follows the Scottish Swimming Framework which enables your child to work through exciting and progressive stages designed by the national governing body for swimming. The programme has also been awarded SwiMark Plus which is Scottish Swimming's highest quality aquatic development programme for learn to swim programmes and clubs.
Aquatics Aberdeen is the proud winners of the Scottish Water Learn to Swim Provider of the Year 2017, awarded by Scottish Swimming and was a finalist in 2019.
When should you start your baby's swimming classes?
Classes start from birth and there are many key benefits to starting this journey as early as possible including:
Babies and young children love getting in the water and having fun in a safe and supported environment, whilst developing their social skills.
Swimming keeps your child's heart and lungs healthy, improves strength and flexibility, increases stamina and even improves balance and posture, whilst contributing to brain development and learning.
Listening, following instruction and self-regulating their behaviour are all skills that help prepare children for school.
What should you expect from an early years swimming lesson?
All children should be having fun. The lessons involve game-based activities to help them learn core swimming skills such as breathing, submerging and moving in the water. Swimming strokes will be introduced gradually once children have learned the basic core aquatic skills.
What are the core aquatic skills?
These are the building blocks for learning more complex practices and they are fundamental to your child becoming a confident and competent swimmer. For example:
Blowing bubbles in the bath/pool is the first stage for aquatic breathing
Floating helps a child establish good body position for strokes to be developed and is key to teaching children safety.
Do I need to go in the water?
Yes. Our Early Years programme is designed to introduce you and your child to the water in a fun way, making it exciting and enjoyable for you both. It will provide you as the parent with confidence and skills to help teach your child to swim.
Swimming costume/trunks, towel, shampoo, swimming nappy (if required) and an adult with their swimming kit too. Change for lockers will be required at most pools.
How to Book
This programme runs during term-time only, with all classes of 30 minutes duration. Payments are made by monthly direct debit.
| | |
| --- | --- |
| | Cost |
| Early years classes | £16.40 per month |
For more information or to book please contact the Aquatics Aberdeen administration team on coachedprogrammes@sportaberdeen.co.uk or call 01224 047934, if engaged listen to the recorded message.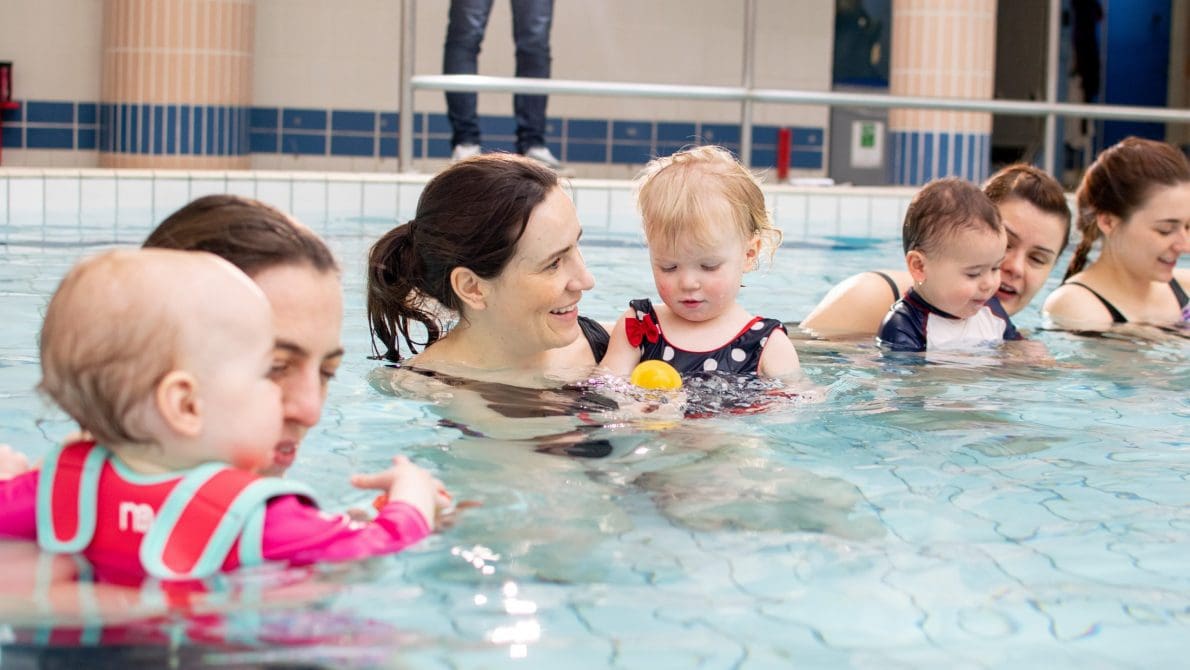 Important Information
Please see our learn to Swim information page for important information for Learn to Swim Members regarding dates, terms and conditions, direct debits etc.