Sport Aberdeen is committed to creating opportunities, inspiring people and changing lives through sport and physical activity.
Under Creating Opportunities, the company strives to ensure that there are affordable, quality venues and services that are accessible to as wide a population as possible. Sport Aberdeen also utilises customer feedback, information on industry trends and partnership working within the City to continually develop programmes and services in emerging sports and activities that allow more people to get more active.
Programme: Active Girls Committee
The Active Girls Committee is a pioneering Aberdeen initiative, empowering young girls to increase participation in sport.
The committee is comprised of 15 pupils from nine different schools in Aberdeen is one of the first of its kind in Scotland. The initiative has been facilitated by Active Schools Aberdeen, part of registered charity Sport Aberdeen.
The girls have pledged to work together to get more girls active across the city, and signed the Book of Agreement which they created for the Committee to follow in this pursuit.
Figures reported by Active Schools both nationally and locally in Aberdeen have shown that the level of girls' participation in extracurricular sport tends to drop over the course of their time at secondary school.
Programme: Active Lifestyles
The Active Lifestyles physical activity programme provides inclusive opportunities for everyone to get active and participate in physical activity regardless of whether they are starting out, recovering from injury, living with a long-term health condition or are older adults. Aimed at those less likely to participate, the programme has been specifically designed to attract and benefit local communities.
The community ethos enables people to stay socially connected and active, whilst supporting and improving their wellbeing. The aim is for participants to improve their physical fitness, strength and balance, positively impacting functional fitness and day to day living.
There are over 100 different opportunities each week with many open to all. The Move More element of the programme provides specialist support and rehabilitation for people living with long-term health conditions such as cancer, stroke, COPD, diabetes, risk of falling and mental health.
In 2018/19 there were over 4514 sessions delivered and a total of 45,000 participations.
Participant feedback is vital to evidencing the impact of the programme. A recent sample survey of people taking part said:
98% said the programme helps them be more active
96% said it's helped develop their physical condition
92% said it's helped develop their social wellbeing and increased their interaction with others
70% said it's helped develop their confidence
60% said it's helped them manage a long-term health condition
Feedback regarding the range of activities, venues, times, price and support from staff was also overwhelmingly positive.
When asked what they thought of the programme the most common responses were linked to friendships and social connections formed at classes, the variety of activity, professionalism of staff, and the positive effects of feeling both physically and emotionally well.
Outcome Measures are used to evaluate the impact of classes such as Exercise After Stroke and Carers Stable and Able. Tests measuring balance, strength, flexibility and endurance are carried out at regular intervals and results have shown marked improvements for people taking part.
Active Lifestyles case study: Marion's Journey
Marion has been with Sport Aberdeen for over 4 years and during that time has developed a love of physical activity. Initially spurred on by a desire to regain her mobility following an injury, her hard work and commitment has seen her not only set herself some ambitious goals, but achieve and exceed them!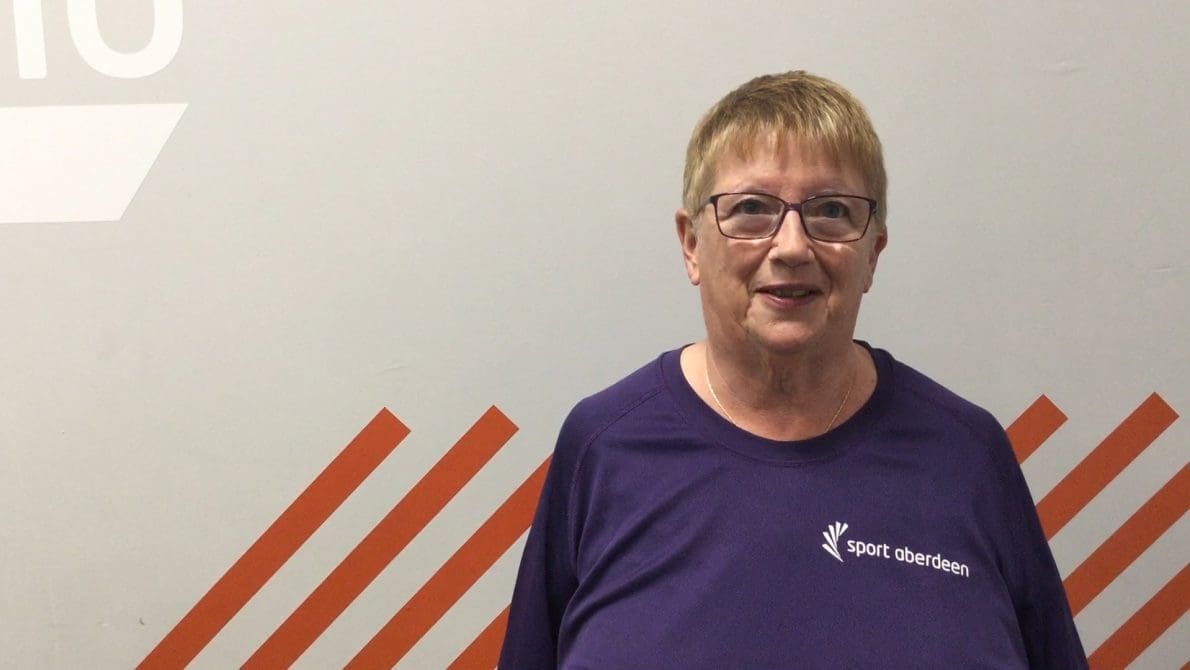 Marion first came along to a Stable & Able class to help improve her strength, balance and overall confidence. At the time she was recovering from an injury and was unable to walk without the use of an aide, indeed the class instructor would meet her outside and help her with the steps into the building. However, Marion attended the weekly class and practiced the exercises at home and her mobility and stability quickly improved. As her fitness improved, so did her confidence and in time she was ready for a new challenge. Health & Wellness Advisor, Jon Lurie, suggested Marion move into a Steady Steps circuits class and with his support she gave it a go. Again she worked hard and felt not only a positive impact on her physical health, but she also enjoyed the social aspect of the class. Over the past 18 months, Marion's fitness levels have rocketed. She has a Sport Aberdeen membership and attends a range of classes. In summer 2019, Marion joined a Learn to Run group at Beach Leisure Centre. Having ever run before, she and the group gradually increased the time and distance they were running and before long, with her coach by her side, Marion completed her first ever Parkrun.
"It doesn't matter what your age is, with the right people and the right support you can achieve your dreams. We are lucky to have such a variety of facilities around us, and as I continue my journey I'd say to others – it's never too late to start."

Marion – Active Lifestyles member