Lindsey Ireland; an Active Girl from the offset
4.10.19
Lindsey Ireland
Scottish Women and Girls in Sport Week 2019
Leadership in Women and Girls in Sport: Leaders Behind the Leaders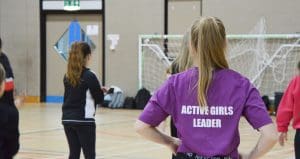 Over 100 girls from secondary schools across Aberdeen gathered today (Friday 4 October) for an action-packed Active Girls Day event, celebrating the amazing work going into girls' sport and the incredible role models making it happen.
The pioneering Active Girls Committee (AGC), supported by Sport Aberdeen's Active Schools team celebrated the national sportscotland initiative by hosting an activity day at the Beach Leisure Centre and Linx Ice Arena.
Lindsey Ireland was in S1 when the Active Girls Committee was launched in October 2016. Excited to get involved in physical activity with other girls, she joined up immediately and has since gone on to take part in a number of events and activities which she says have seriously improved her organisational and leadership skills.
One of the opportunities Lindsey has had since joining the AGC was the "Women, Get, Set, Go!" programme.
The course encourages women and girls to communicate with confidence, value their own skills, understand how the world of sport and leadership works, and to develop a personal action plan for their future involvement in sports leadership. It encourages females to enter into community leisure leadership positions, and to develop their involvement both for their own benefit and for the benefit of the community in general.
Lindsey recognises the importance of encouraging other young girls to get active just as she has. She said:
"Having a healthy lifestyle impacts positively on all areas of our lives. Taking part in sport helps develop girls as individuals, improving their confidence and self-esteem. To me the importance of leadership in sport is shown in the ability to positively impact young girls and provide them with opportunities to get active."