Sport Aberdeen staff Get active: Nathan Brown
20.5.19
Nathan Brown is a Supervisor at Sport Aberdeen's Tullos Swimming Pool and has been with the company on a full time basis since 2015. He also runs the Mood Swings podcast, a mental health podcast that focuses on how creatives and sportspeople deal with mental health issues.
Despite being relatively active throughout his life, Nathan last year decided to take up Muay Thai and has since become the most active he has ever been.
We had a chat with Nathan to find out more about his journey to getting active.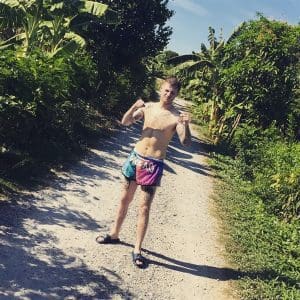 How long have you been an employee with Sport Aberdeen?
My first job with Sport Aberdeen was as a full time lifeguard at the Beach Leisure Centre back in September 2015.
Have you always been an active person? If not, what made you decide to be?
I would say I have been active throughout my life, although I have had some spells where I haven't done any exercise for long periods of time because of my time being taken up by other things.
A few years ago after a period of doing next to no exercise, I decided I wanted to start doing something to lose a bit of weight and get back in shape. So I started playing football and joined the gym and haven't really looked back since.
You have recently returned from a trip to Thailand to train in Muay Thai. How did you get into the sport and what led you to decide to take a trip halfway around the world to pursue it?
I first got into boxing whilst working at the Beach Leisure Centre at a charity boxing event that was running at the venue. Despite no boxing experience I, for whatever reason, felt like it may be something I wanted to try and ended up signing up for their next event.
After around eight weeks training I competed in a three round bout at the Beach Leisure Centre, all in aid of Cancer Research UK. After this I decided I wanted to continue boxing and did so for around a year before feeling I needed to shake it up a bit.
I started training back at Aberdeen Combat Centre, where I had had my initial boxing training and tried a bit of everything from MMA, Muay Thai and Jiu Jitsu, but ultimately it was Muay Thai that I found myself more drawn to.
Muay Thai obviously originated from Thailand and is their national sport. Although it is growing in popularity in the west, it's still unknown to a lot of people and has nowhere near the attention here that it has in Thailand.
From when I first started really gaining an interest in Thai Boxing, I realised that if I was serious about it that it would eventually take me to Thailand.
Many of my training partners had spent time in Thailand training and when watching documentaries or interviews (or when later conducting interviews myself) with top athletes they had all spent time in Thailand.
Muay Thai fighters in Thailand also lead a very regulated life, often living at the gym and training six hours a day over two sessions and it is notoriously gruelling. From when I started training I knew that at some point I would want to go over there and sample that lifestyle even if for short time, to test myself and to really try and understand what the sport entailed for the people closest to it.
What perceived benefits are there for you since you started training in Muay Thai?
Muay Thai can really be whatever you make of it and I've never really been someone to do things by halves. I started training quite intensely as soon as I started in the sport, typically training six days a week and sometimes training twice a day. This has obviously led to a lot of physical benefits including weight loss, increased fitness etc, but has also given me a real routine and a real drive each day.
It has also been a great help in reducing my stress levels. I have also met some amazing people through the sport, both at my own gym and further afield.
I mentioned earlier that Muay Thai is a relatively small sport in the UK but this does have its benefits and I have been lucky enough to train with world champions and other's at the very top of the sport in the relatively short time I've been training.
You seem to speak to a lot of sportspeople about mental health on your Mood Swings podcast. Having spoken to footballers, boxers and people practicing other sports, how do you feel being active can benefit your mental wellbeing taking into account your own experiences as well as those you have spoken to?
I think it is pretty widely recognised that sport and exercise can have a profound impact on your mental health just in terms of how it effects the body but without getting too scientific I find that sport and exercise is a great way to take yourself out of your own head if you have a busy mind.
Even out with the time you're actually exercising, if you have a sport you're passionate about progressing in, it can provide you with a mental focus. I have found that the sportspeople I speak to are often very passionate, driven and obsessive and having a sport you love can provide something healthy to obsess over. I would certainly say that also characterises my own experiences with Muay Thai.