Steph's Summer of Sport Week Two
15.7.19
To kick off Steph's summer of Sport I attended outdoor bootcamp at the Beach Leisure Centre. This was my first Sport Aberdeen group exercise class; therefore, I wasn't quite sure what to expect. As soon as I arrived I was greeted by a very friendly instructor Laura. She made me feel welcome, excited for the class and I forgot about any apprehensions I previously had.
Unusually for Aberdeen, it was a warm sunny evening which was perfect for this class. However, don't let bad weather put you off! It runs every Monday whatever the weather and the class is proving so popular that it is set to continue into the winter months.
The class began with a warm up. This consisted of running along the beach boulevard and down onto the sand. It then quickly moved onto circuit-based training: 40 seconds of one exercise including sit-ups, burpees and high knees followed by a 20 second rest. It was good because modifications of the exercises were given to both the super fit and those who were struggling, so everyone was able to do something to the best of their ability. What I enjoyed most about the class is that we were never doing one exercise for too long. This kept everyone engaged and made the class more exciting, especially for someone like me who gets easily bored.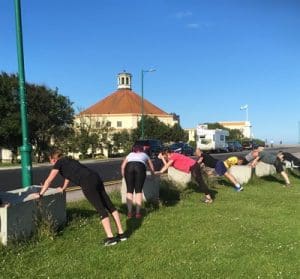 After the circuits, we moved onto running, this was definitely the hardest part of the class, but running is one of the best ways to get fit – after all who would choose to run up Broad Hill if you weren't being told to! Going out of your comfort zone and doing something you would never do by yourself pushed us all to the next level.
The run consisted of going up Broad Hill to designated points where we would do an exercise e.g. squats. We then continued to run to the other side of the hill and once we had reached it, we had to bunny hop back up the stairs – definitely a leg burner after running both up and down the hill, but secretly, I enjoyed it. This was down to Laura being so motivating. She had a really positive mindset and encouraged us to never leave any one behind. When each individual had completed the run, we had to run back to the last person and high five them, this built a sense of community as we were constantly encouraged to look out for one another. This was the theme running throughout the class – never leave anyone behind!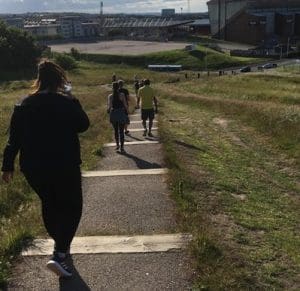 I left the class feeling really positive and it put me in such a good mood. This just shows the positive effects that exercise has, especially exercising outside on such a nice evening. However, it must be said that I would not have felt like this if Laura wasn't so motivating and the group wasn't so friendly. Outdoor bootcamp was a great way to begin the week – get up and out after a busy day at work and kick off your week in the best way possible.
I couldn't think of a better way to kick off the Steph's Summer of Sport campaign!
If you want to get active and get outdoors, click here.