General News:
Aberdeen girls are reaching new heights thanks to local initiative
23.3.18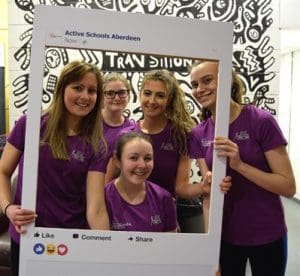 Active Girls Committee members at Transition Extreme.
An Aberdeen initiative, which was set up with the aim to level the playing field for young girls in sport, has been helping local pupils reach new heights.
Sport Aberdeen's Active Girls Committee, in partnership with Transition Extreme, welcomed over 50 girls to a 'Climbing Wall Taster Evening' last Friday, 16th March.
The Active Girls Committee, which launched in early 2017, helped to host the free event, for S1-3 girls from across the city, with the aim of encouraging more girls to take part in sport.
The evening was also a brilliant opportunity for girls from across the city to meet the Active Girls Committee members and learn more about the initiative.
The Committee, put together by Sport Aberdeen's Active Schools team, is run by girls from secondary schools across the city who are championing a move to get more young girls involved in sport and physical activity.
Graeme Dale, Sport Aberdeen Senior Development Officer (Young People), commented on the success of the evening:
"The taster evening was a huge success and it's brilliant to see so many girls engaging with the Active Girls Committee.
"The committee has gone from strength to strength and it is our hope that in the Year of Young People they will act as powerful role models and inspire more girls to take part in sport and physical activity. We believe the Active Girls Committee can help to address the national trend of girl's participation being lower than that of boys in the same age group."
Aimee Work, Active Girls Committee chairperson, said:
"The evening at Transition Extreme was a great success for our first event of the year, we had a great number of girls attending, enjoying something new for many of them. It was so rewarding seeing the girls having fun, challenging themselves and having the confidence to give it a go and meet new people.
"With our new Instagram account, we were able to post some of the girls in action as our first event on Instagram. Once again me and all the girls most certainly enjoyed seeing a great turn out and hope that these small yet effective events are what will promote the committee and encourage more girls to take part in sport and physical activity."