General News:
Aberdeen netball girls are doing it for themselves
1.3.18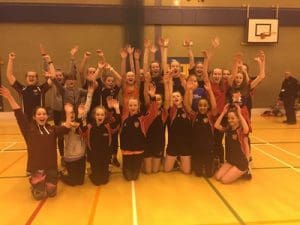 Thanks to the help of a Granite City volunteer, a brand-new netball club for young girls has been set up in the city.
The new 'West End Netball Club', for S1 girls from Harlaw Academy and Aberdeen Grammar, has been set up by Sport Aberdeen's Active Schools Coordinators as there was nowhere for girls of this age in this area to take part in the popular sport.
Active Schools Coordinators approached Claire Pearson, a parent volunteer who previously ran the Active Schools netball for Ashley Road Primary. Claire agreed to take on the challenge and now helps to run the West End Netball Club.
The new club has also welcomed two senior Harlaw Academy pupils to take on a leading volunteering role having completed their leadership training through Active Schools.
The first session, at Harlaw Academy, saw 23 girls turn up and runs on a Monday evening from 8.30-9.30pm for S1 girls from Harlaw Academy and Aberdeen Grammar.
Jo Bell, Sport Aberdeen's Director for Sport and Active Lifestyles, said:
"The long-term goal is for West End Netball to become a recognised netball club in the city which would allow for more age groups and schools to attend training and enjoy the sport.
"As a charity we rely heavily on volunteers giving their time to help keep Aberdeen's communities active and give young people opportunities to take part in sport and physical activity.
"On behalf of Sport Aberdeen, I would like to thank everyone who volunteers with us. We are always looking for more people to get involved which in turn allows us to reach more people and changes more lives through sport and physical activity."
Claire Pearson commented:
"The main reason I decided to volunteer is because as a young girl I played netball and it gave me so many life skills which have helped me throughout life, including confidence, working effectively in a team, friendships and general wellbeing.
"At West End Netball Club it's great to see all the girls enjoying a team sport, making new friendships and enjoying physical activity. For me, if you have a skill or knowledge it great to share it with children who love to learn."
Click here for more information on how to volunteer with Sport Aberdeen.