General News:
Exciting announcement for sport in the City
26.2.18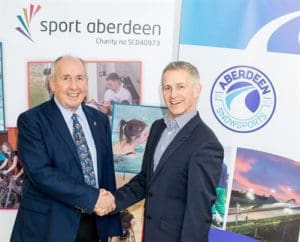 Colin Taylor, Sport Aberdeen chairman with Dean Philips Garthdee Alpine Sports (Aberdeen Snowsports Centre) chairman.
Following a review commissioned by Aberdeen City Council, Sport Aberdeen, Aberdeen Snowsports Centre and Adventure Aberdeen are set to merge.
The review has established that it would be both feasible and beneficial to the City Council to bring the organisations together, and that there would be significant service advantages as well as efficiencies.
Aberdeen Snowsports Centre and Adventure Aberdeen will be merged into the larger charitable structure of Sport Aberdeen, creating an organisation that can draw on expertise across sporting specialisms to offer a more dynamic range of services and optimising opportunities to get active in the City.
The first phase of the merger sees Sport Aberdeen & Aberdeen Snowsports Centre formally taking steps to amalgamate, with the Chairs of the Charities meeting recently to plan the integration. In a joint statement they commented:
"We are fully aware of the financial pressures faced by our partners Aberdeen City Council and we must do what we can to help support the Council with the challenges that lie ahead. We also need to ensure that what we offer is sustainable going forward and our coming together will be an important step in that direction.
"We have listened to the Council and studied the review's findings carefully and we can see the benefits that this will deliver, along with the opportunity to combine our broad range of services and management expertise together.
Dean Phillips, Chair of Aberdeen Snowsports Centre said:
"As we work towards this aim, we wish to reassure all our snowsports and football customers, users, clubs and organisations that it will be business as usual for the foreseeable future. The same message has also been given to our staff and volunteers who support the delivery of the many programmes. We have much to do behind the scenes and we will approach this with care and diligence to ensure the best possible outcome."
Plans for the incorporation of the Adventure Aberdeen service are ongoing. The Council and Sport Aberdeen have established a Project Integration Team with the intention of completing a smooth transfer of staff and services by the end March 2018.
Commenting on the merger, Alistair Robertson, Managing Director of Sport Aberdeen said:
"Bringing the three organisations together makes sense and offers a number of advantages. I am confident that the merged services will be more efficient and effective in the way that they are planned, delivered and developed and we are all excited about the possibilities that lie ahead. We can really push on and make what we offer in Aberdeen the envy of Scotland."