General News:
Jays 10K Challenge
21.5.15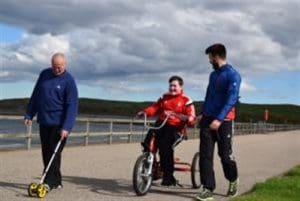 A local 15 year old is attempting his own 10K challenge in a fundraising effort for his Basketball Club.
Jay Moir, who has cerebral palsy, is attempting to cycle the distance in a purpose built trike at Aberdeen Beach.
Hoping to raise funds for specialised equipment for Grampian Flyers Basketball Club, Jay was inspired by the Baker Hughes 10K. With the help of RGU Physiotherapist, Marcus Quarmby and Sport Aberdeen, Jay wanted to take on a challenge of his own.
"Marcus has been helping me in one to one sessions which I started to get some extra exercise and keep my legs moving", said the 15 year old from Torry. "I told him I wanted to do some fundraising and he mentioned the baker Hughes 10k was coming up so I could do my own challenge and things developed from there."
Attempting the 10K is a real challenge for Jay, whose disability limits the movement in his legs. But he faces his daily challenges head on by going to the gym where the RGU team specialise his training and he is always trying new things
"I've been training for 4 weeks now both at the gym and with the trike which I will be doing the challenge on. I also play badminton and basketball with the Grampian flyers which I really like."
Jay has already completed the first stint of his challenge on his tailored tricycle in an impressive time and will be taking on the second leg this week. The RGU Physiotherapy team had a tent on the day of the Baker Hughes 10K where they gave free massages and accepted donations for Jays cause.