General News:
Local businesses called upon to take on the North East's longest running road race challenge
15.3.18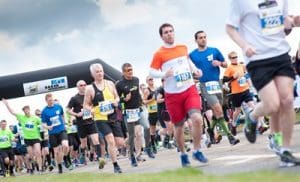 BHGE 10k organisers are calling on local businesses to make Aberdeen's longest running road race your latest team challenge.
The BHGE 10k Corporate Team Challenge is officially open for entries and race organisers are urging teams of three or more to sign up to be in with a chance of claiming 2018's corporate team title.
The event now in its 31st year, organised by registered charity Sport Aberdeen in partnership with BHGE, will take place on Sunday 20th May at the Beach Boulevard.
Each year the BHGE 10k Running Festival attracts thousands of participants from all over the country whilst raising money for deserving causes, with 10 official race day charities on board.
The fastest times from each team will be added together to create a score. The company with the lowest score (fastest team) will win.
The triumphant team will receive a voucher for up to 12 people to take part in the Adrenaline Rush Experience at Transition Extreme, plus the prestigious Corporate Team trophy.
New spot prizes have also been added in for the 2018 Corporate Challenge including best team photo from the day, fastest female team and fastest veteran team.
Businesses can enter the Corporate Team Challenge by emailing BHGE10K@sportaberdeen.co.uk
Commenting, Sport Aberdeen's Director of Business Development Jill Franks said:
"The annual Corporate Team Challenge is a great chance for some healthy competition whilst raising money for your favourite charities.
"It's increasingly important to have fun and engaging events which rally the community together. We are always overwhelmed by the support North-East businesses show and this backing ensures that Sport Aberdeen can continue to create opportunities and inspire people to take part in sporting events".
"The BHGE 10k Running Festival is another shining example of how our dedicated team of staff and volunteers work to bring events at the heart of our community to life and we are very much looking forward to another fantastic race day!".
Lesley McMullan, Marketing Specialist for BHGE said:
"As long-standing sponsors of the 10K we enter a large team of employees each year. In the run up to the race you will always hear conversations on training plans and lunchtime running routes at the office coffee points alongside some light-hearted competitive discussions between departments!
"Race day itself is a great chance to catch up with colleagues and their families outside of the work environment and we all look forward to either running the race, volunteering to help or cheering on the BHGE team!"
Last year's Corporate Team Challenge title went to Chevron, with a winning overall time of 1.59.07 (fastest three runners).