General News:
Local council leaders back pledge to Activate the City
19.2.18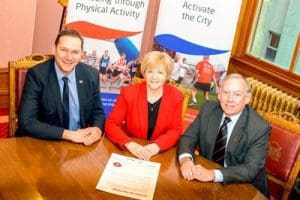 Aberdeen City Council has pledged to support a citywide transformational campaign aimed at getting more people more active in the North East.
The campaign, led by the Active Aberdeen Partnership (AAP), will champion a move to make 2018 the Year of an 'Active City', helping more people take part in sport and physical activity, creating better lifestyles and improving overall wellbeing.
Activate the City will strive to challenge national trends and create an active culture throughout Aberdeen, with a focus on impacting the health and social wellbeing of the Granite City's communities whilst addressing overcoming barriers to participation.
Local communities will be called upon to help transform and encourage physical activity and sport engagement, with backing from strategic leaders, parents, teachers, friends and colleagues, helping to promote an active culture citywide.
The AAP is urging people to keep a look out as more information on this citywide campaign will be available soon which will give everyone the chance to pledge their support towards activating the city and helping to make Aberdeen healthier.
Tony Dawson, Active Aberdeen Partnership Chairman, said:
"Physical inactivity contributes to nearly 2,500 deaths a year in Scotland (1) and it is my hope that this is the beginning of a ground- breaking, transformational strategy, set to improve the health and wellbeing of the local population for years to come through embedding and celebrating an active culture citywide.
"Locals leaders have backed a drive to Activate the City, underling commitment to helping people take part in physical activity and sport, creating better lifestyles and improving wellbeing through being active more often.
"It is down to each and every one of us in Aberdeen to support the ambition to Activate the City and make Aberdeen the most active city in Scotland by 2020 by helping establish an active culture and making personal and organisational commitments to change.
"Everyone will soon have the chance to pledge to help Activate the City and work towards a healthier and happier Aberdeen together."
Cllr Jenny Laing, Co-Leader of Aberdeen City Council, said:
"Aberdeen City Council is committed to ensuring every community thrives and giving individuals the opportunities to prosper in all aspects of their lives. Health and wellbeing underpins that ambition for the people of the city and we are delighted to support an initiative which will have a positive impact across the city.
Cllr Douglas Lumsden, Co-Leader of Aberdeen City Council, also commented:
"Through our events programme, which this year included the introduction of the Great Aberdeen Run and brought Tour Series Cycling to the north-east for the first time, we are making an investment in sport – both at elite level to encourage engagement but also crucially in opening up avenues for residents to participate."