General News:
Nominations open for awards celebrating 25 years of Aberdeen's sporting community
18.4.18
Nominations for the prestigious Aberdeen's Sports Awards, now in their 25th year, officially opened today.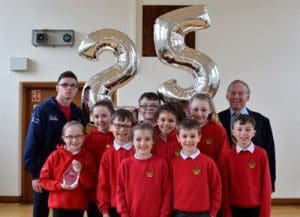 Tony Dawson, Active Aberdeen Partnership Chairman, joined Connor Morrison, 2017 Disability Sports Achiever of the Year, and pupils from Westpark School, 2017's Primary School of the Year, to mark the official opening of nominations for this year's event.
This year there will be 18 award categories recognising contributions made by local athletes, volunteers and clubs in encouraging individuals to be active.
This non-profit event is presented by the Active Aberdeen Partnership, a collective of key sport and physical activity organisations in Aberdeen who together are actively promoting sport, physical activity and health opportunities within the city.
This year celebrates the awards 25th year and Mr Dawson today urged people across Aberdeen to come forward and acknowledge those who contribute to the city's sporting success.
Commenting, Active Aberdeen Partnership Chairman Tony Dawson, said:
"Aberdeen's Sports Awards are a fantastic way to recognise and celebrate the people in our city who contribute towards our sporting communities.
"Whether it is the voluntary superstars who lend their time to community coaching, or the wealth of talented athletes that Aberdeen has produced, inspiring future generations to come.
"This year we celebrate 25 years of Aberdeen's Sports Awards, highlighting the city's wealth of sporting talent and acknowledging the many facilities, clubs, coaches and volunteers that enable participation across the city.
"The Active Aberdeen Partnership champions a move to make Aberdeen the most active city in Scotland by 2020 and these awards shine a spotlight on the people who are dedicated to bringing this vision to life.
"There is still time to sponsor some of our categories, so I would also urge any business or individual looking to support community sport to get in touch to find out more about they can get involved as we celebrate 25 years of sporting success in the city."
The closing date for applications is Friday 24th August 2018. Click here for more information and the list of categories.
2017 Disability Sports Achiever of the Year winner, Connor Morrison said:
"The Aberdeen Sports Awards is a great way to recognise the success of athletes, coaches and volunteers across the city. The event is a shining example of inclusion with para athletes stories and successes shared to raise awareness of opportunities and show anything is possible"
Do you know a sportsperson, team, club, coach or volunteer who deserves recognition? Nominate them now!