General News:
North East Commonwealth Games sporting star inspires local school pupils to take on BHGE challenge
12.3.18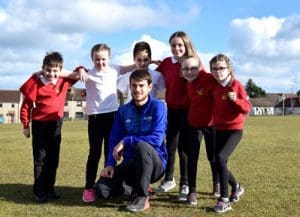 Robbie Simpson with (left to right) Lewis Moir, Aimee Cumming, Connor Raitt, Aalyah Wilkinson, Karin Watt and Sophie Imlach.
A Deeside Runners club member who is representing Scotland in the 2018 Commonwealth Games has inspired local pupils to take on a running challenge this year.
Robbie Simpson, who the Inverness half-marathon at the weekend, last week visited Aberdeen's Westpark School to speak to pupils about his running experiences, from his first race to his Commonwealth Games preparation.
The visit came ahead of the official ten-week countdown to the North East's longest running road race.
Organisers of the BHGE 10k Running Festival today said, "This is a brilliant opportunity for pupils to be inspired by a local sporting star and take on the Active Schools 2k race, part of Aberdeen's BHGE 10k Running Festival this May".
The BHGE 10k Running Festival, now in its 31st year, is run by registered charity Sport Aberdeen and title sponsors BHGE. The Active Schools 2k Run is open to children from P6 – S4 and includes a wheelchair race category. The event will take place on Sunday 20th May.
Jill Franks, Sport Aberdeen's Director for Business Development, said:
"The BHGE 10k Running Festival is a family event at the very heart of our community and highlights Sport Aberdeen's commitment to creating opportunities for people of all ages and abilities to take part in sport and physical activity.
"The Active Schools 2k Run is a great chance for younger participants to join in, get active and ignite a passion for sport that can last a lifetime."
Robbie Simpson commented:
"Events like these are a great way for kids from all backgrounds to get in to running, it's really enjoyable to compete in a big race close to home alongside friends and family.
"For some it may be their first step in discovering natural talent or passion for competitive sport and for others it may be a way to make new friends and keep fit – the important thing is having the opportunity to get involved in a fun and healthy activity."
For more information and to sign up for the race click here.