General News:
Sport Aberdeen and Scarf tee off new partnership
3.7.19
Award-winning charity Sport Aberdeen has unveiled a partnership with social enterprise, Scarf, helping to promote an innovative new support service for local homeowners, landlords and businesses, focusing on joint values around energy efficiency.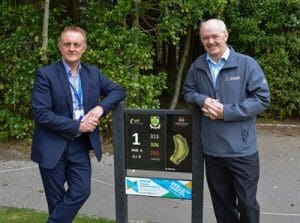 Image left to right: Keith Gerrard, Sport Aberdeen Director of Healthy and Active Communities and Martin Hall, Operations Manager at Scarf
Scarf has sponsored the 1st hole at Sport Aberdeen's recently reopened MacKenzie Championship Course at Hazlehead, for a period of three years, as part of the awareness-raising campaign for the Scottish Government-funded Energy Efficient Aberdeen programme.
Energy Efficient Aberdeen aims to bridge the knowledge gap stopping owner occupiers and private landlords across the city from making improvements to the efficiency of their property.
By offering a bespoke advice service and access to government loan funding and a trusted trader database, home owners can be supported to make changes recommended on an Energy Performance Certificate (EPC) to bring their home in line with the Scottish Government's target of all Scottish residential properties having an EPC rating of 'C' or better by 2040.
Keith Gerrard, Sport Aberdeen Director of Healthy and Active Communities, said:
"We are proud to be working with Scarf to actively promote ways that people can improve the energy efficiency of their properties. This is a great example of how we can work in partnership and encourage more people to consider how they play a part in creating a more sustainable environment.
"Sport Aberdeen is committed to reducing its carbon footprint and energy consumption which is part of our wider carbon management plan."
Martin Hall, Operations Manager at Scarf, said:
"We are committed to being an active part of the local community and we are delighted to be able to work with Sport Aberdeen on this sponsorship. We also look forward to holding events at the course, including our first ever Networking Golf Day in August.
"People who sign up to Energy Efficient Aberdeen will benefit, for free, from advice from industry experts, referrals into other programmes such as Home Energy Scotland, monitoring of the temperature in the property before and after measures are installed and also a free-of-charge EPC inspection after the works have been carried out."