General News:
Sport Aberdeen celebrates another triumphant year of activating the city
16.11.20
Sport Aberdeen's 2019/20 Annual Report has revealed that a staggering 1.4 million people used its facilities in the last financial year while fitness attendance was up by 30,000 visits on the previous year.
Get active members grew by 13% from 2018/19 and the award-winning charity recorded a 26% increase in income generated through 'Get active' memberships, with all profit invested back into the people, projects and communities that Sport Aberdeen serves.
Over 260 free memberships were given to looked after children and young people, 672 additional support needs participant visits were recorded by Adventure Aberdeen Snowsports and over 33,000 active lifestyles programme visits were logged; targeted opportunities for everyone regardless of whether you are starting out, recovering from injury, living with a long-term health condition or an older adult.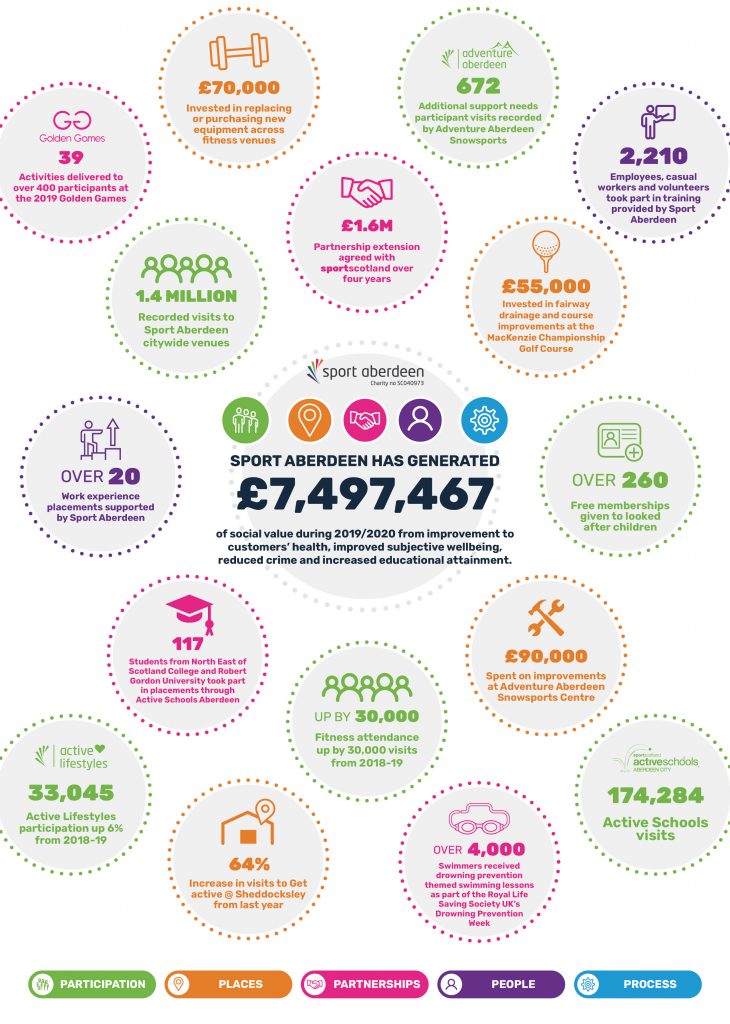 The highlights reported are underpinned by another year of award successes, which saw the north-east's largest leisure provider winning in categories recognising excellence in employment, volunteering, capital investment, fitness venues and commitment to the community.
Tony Dawson, Sport Aberdeen Chairman, said:
"I had the privilege of stepping up to lead this brilliant and inspiring charity last September, having served as vice chairman over the previous two years and I have enjoyed every moment since.
"Sport Aberdeen is at the heart of community sport and wellbeing within our city and this body of work, which is just a glimpse into what the charity has achieved, highlights how we continue to create opportunities and change lives through sport and physical activity.
"The continued developments and triumphs are testament to the hard work and dedication of every employee, volunteer and board member. This was reflected in the 'Staff Matter' award that was handed to Nickie Scorgie, Head of HR and Organisational Development, at last year's Northern Star Business Awards, accepted on behalf of everyone who helps to make a difference through sport in Aberdeen.
"Our volunteers were also rightly celebrated last year when we received the Queen's Award for Voluntary Service, the highest accolade a charity or voluntary group can receive in the UK and yet another tribute underpinning the exceptional work Sport Aberdeen can be proud to have its name against."
"We have once again worked hard to break down barriers, offering opportunities to participate in physical activity to everyone and continuing to foster sport at all levels within the city. I look forward to another challenging yet inspiring year ahead."
Alistair Robertson, managing director of Sport Aberdeen, said:
"2019/2020 was not without its challenges, but the resilience of Sport Aberdeen, and all those who work together in our company; employees, volunteers and our board of directors, has enabled us to continue to break down barriers and work towards a healthier city.
"I am extremely proud of the difference that we continue to make to so many people's lives throughout the city and the north-east. During this period, Sport Aberdeen generated over £7 million in social value through targeted programmes. Converting the work that we carry out into a monetary value brings home the positive impact that our charity has on our varied communities."