General News:
Vicki takes on the BHGE 10k as part of sprint around Scotland raising money for Myeloma UK
26.3.18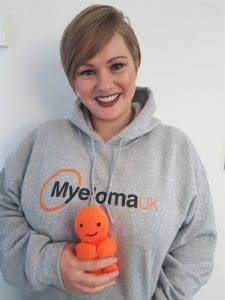 Vicki Moir with Buddy, her Myeloma mascot, who will be joining her on every run
A first time 10k race goer, and self-confessed 'non-runner', is to take on Aberdeen's oldest running event as part of a mega 175kilometre fundraising challenge this year.
Vicki Moir will this May travel back to her home city to take on her first 10k road race when she competes in the BHGE 10k Running Festival.
Vicki, who now lives in Glasgow, decided to sign up for a running event to fundraise last year after her dad was diagnosed with multiple myeloma in October 2014.
Vicki decided to take on a challenge in order to not only raise money for a charity that was now close to her heart, but also to raise much needed awareness. Vicki commented, "we had never heard of myeloma and very few people we knew had any idea what it was, so the resources and support that Myeloma UK have provided has been invaluable."
"I wanted to do something that would, in a small way, help raise awareness and let others who need support know of the great work the charity does, and to let others who are diagnosed know that they are not alone."
However, Vicki decided that "one 10k didn't really seem enough" and set herself the challenge of completing 175kilometres, 14 organised runs in total, within the year.
Jill Franks, Sport Aberdeen's Director for Business Development, said:
"On behalf of the BHGE 10k race organisers I would like to wish Vicki the best of luck not only taking on Aberdeen's famous 10k but for the rest of her sprint around Scotland.
"Every year the BHGE 10k Running Festival raises tens of thousands of pounds for charities and brings people together from far and wide for an event at the heart of the community. It is this community spirit and continued support for deserving charities that makes Aberdeen's longest running road race stand out from the crowd."
Vicki Moir also commented:
"When Dad was diagnosed with Myeloma in October 2014 it was a massive shock. We knew that he wasn't feeling well as he went to the doctor, something he never did, but we didn't expect him to be diagnosed with cancer. What made it even more worrying was that we had never heard of Myeloma before.
"My dad has been so extremely brave and has faced everything with humour and determination. I'm unbelievably proud of him, and also massively thankful to Myeloma UK for the wonderful support and information they provide. I wanted to do something that would be personally challenging to raise funds and awareness for the charity.
"Running was ideal as I'm not at all athletic and the idea of running filled me with fear! Despite this, running one 10k didn't seem to be enough of a challenge, so it escalated pretty rapidly and I'll now be running 175k in events this year.
"Of all the events, the BHGE 10k is the one I'm looking forward to the most as it'll be really special, and probably quite emotional, to run in my home city."
For more information and to sign up to the BHGE 10k Running Festival 2018, click here. The race will take place on Sunday 20th May.