10 weeks to 10K – week 7
8.4.19
Nutrition
With only three weeks to go, it's time for the last push!
Training for a race requires physical stamina and mental fortitude but it also requires a balanced diet that fuels you. Having a good nutrition plan for pre and post run meals will keep your energy stores full and help you recover quicker.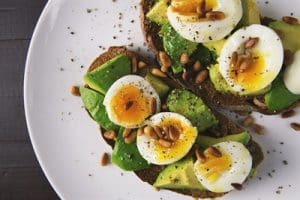 2-4 hours before you run we suggest having a snack or light meal, high in complex carbohydrates such as vegetables, fruit, legumes and whole grains. From a protein perspective it should be easy to digest options like ground meat, eggs and dairy based foods. Keep fat, sugar and fibre low to avoid cramp during your run.
After your run or training session, you should aim to eat a high quality meal with a good balance of protein, complex carbohydrates and fats 1-2 hours after you finish.
Good nutrition is important for overall health and a good nutrition plan will enhance your performance and promote recovery after the run.
Example Male Nutrition Plan
| | | |
| --- | --- | --- |
| Food | Quantity | Examples |
| Protein | 2 Palms | Chicken, turkey, lean red meat, sea food or eggs |
| Fruit/Vegetables | 2 Fists | Bananas, oranges, mixed vegetables etc. |
| Carbohydrates | 2 Handfuls | Brown rice, sweet potato, wholewheat pasta or wholemeal bread |
| Fats | 2 Thumbs | Avocado, nut butter etc. |
Example Female Nutrition Plan
| | | |
| --- | --- | --- |
| Food | Quantity | Examples |
| Protein | 1 Palm | Chicken, turkey, lean red meat, sea food or eggs |
| Fruit/Vegetables | 1 Fist | Bananas, oranges, mixed vegetables etc. |
| Carbohydrates | 1 Handful | Brown rice, sweet potato, wholewheat pasta or wholemeal bread |
| Fats | 1 Thumb | Avocado, nut butter etc. |
10 weeks to 10K Training Plans
Beginner 10K Training Plan Improver 10K Training Plan