10 weeks to 10K – week 9
22.4.19
The BHGE 10K route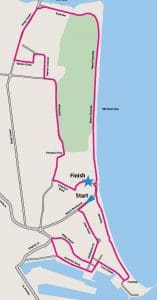 Now that race day is almost here, it's time to really test yourself. Beginner runners, this means challenging yourself to the full 10K and intermediate runners, this means running 12K.
By this stage you should feel confident about race day next week and we're sure all the hard work you've been putting in over the past eight weeks will pay off.
Week 10 will be at a much easier pace to ensure you are totally fresh for race day, keep thinking positive and working hard.
Some tips to keep feeling positive during your 10K:
Set small goals
Focusing on the overall distance of the race may be overwhelming, so don't think too far ahead. Think instead about the race 1K at a time or lamppost to lamppost. This will help keep your mind feeling calm and positive as you reach each mini goal.
Smile
When you smile your face and body relax, which makes you feel happier and more positive. A simple but effective tip for race day plus we love seeing a sea of happy runners!
Think about what you've achieved
Some of you will have never run a 10K before or others will be challenging themselves to reach a new personal best. Remember that you have already achieved big things by following this plan in preparation for the race. Keep this in mind to help stay motivated and positive as you take on the race.
The BHGE 10K is a road race so please make sure you stay on the road at all times and remember to be courteous towards other runners and of course have fun!
10 weeks to 10K Training Plans
Beginner 10K Training Plan Improver 10K Training Plan