Dancing on Ice Profile: Mark Hanretty
1.7.19
Mark Henretty is a Scottish ice dancer most famously known for his appearances on Dancing on Ice. He is also a two-time British bronze medallist and competed in the European Championships in 2009. The Dancing on Ice star is set to return to Aberdeen this weekend for Sport Aberdeen's Summer Skating Spectacular and we were lucky enough to get the chance to ask him a few questions ahead of his appearance at the Linx Ice Arena this Sunday 7 July.
For more information or to book tickets, please click here.
How and where did you get into ice skating?
I started ice skating after watching Torvill and Dean return to compete in the 1994 Olympics in Norway and have been utterly hooked and obsessed with the sport ever since. Sometimes it's totally overwhelming to step back and realise that I work with them both so closely now!
What has been your greatest achievement in ice skating to date?
My greatest achievement to date would be when I competed at the World and European Championships as an amateur but won the Young Artist Showcase as a professional. The Young Artist Showcase was a worldwide choreography competition that opened up some amazingly exciting opportunities, which I'm so grateful for.
How did you get involved with Dancing on Ice?
I got involved with Dancing on Ice when I was working with Christopher Dean as my choreographer. Christopher was due to choreograph my next competitive routine but instead, he helped me get a job on the ITV show.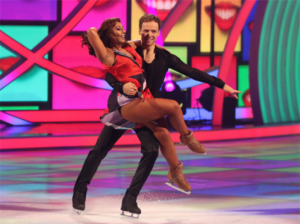 What made you come back to Aberdeen for another showcase?
I decided to come back to Aberdeen as I loved working with the skaters and coaches last year and it's always a true pleasure to work with Alex too. Between us all, I think we will create an amazingly positive energy for the local skaters to thrive in.
Do you see any potential skating talent in the North East?
There are some major skating talent in the North East of Scotland and I can't wait to see their progress from last year.
Do you have any advice for aspiring ice skaters?
My advice for aspiring skaters would be clear on your dreams and goals and then chase them relentlessly.