My Journey with Sport Aberdeen: Kira McRobb
4.6.19
18 year old Kira McRobb started her gymnastics journey at the age of three and has been competing competitively since the age of 8. We had a chat with her to learn a bit about why she loves her sport so much.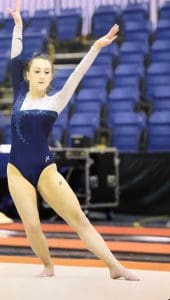 At what age did you first start your Gymnastics journey?
At the age of around three years old, my parents noticed a particular passion and skill that I had for climbing around the obstacles and cargo nets that were at a children's outdoor play area near my home. After seeing my talent I had and the enjoyment that I got out of these activities, they decided that gymnastics might be a good sport for me to go into to release my energy in a safe environment. So at the age of 3 my grandparents took me to my first Kindergym session and I have continued developing a love for the sport ever since.

How did your time in the Sport Aberdeen Gymnastics coached programme set you up to move into competitive gymnastics?
This coached programme hugely helped me prior to moving into competitive gymnastics at the age of 8. From first starting Kindergym the main goal from the coached programme was to build up my coordination and body awareness from a young age so that these skills would come naturally and develop as quickly as possible. After this the programme was hugely helpful to me in developing my flexibility, balance and control which are factors that are hugely important in the sport of gymnastics. Basic gymnastics skills were also taught to me at this level in a safe and positive environment which was ideal for me to improve my confidence within the sport and continue to drive me to make improvements. Most importantly it was a place for me to be able to express myself and not be afraid to make mistakes as I knew this is how I would learn.

What is your fondest memory since you started gymnastics?
To pick one single memory as my favourite out of my 14 years in the sport would be an almost impossible task. However, I can definitely say that almost all of my favourite memories from gymnastics are because of the friends that I made through the sport who turned into my second family. Although gymnastics is an individual sport, training together with a group of girls who all shared the same passion as I did was hugely influential in my development. Not only did this group of friends help me to remain motivated in the gym but they also helped me to develop in other areas of my own life such as my communication skills and general social skills. At the age of 18 , many of my friends have now moved into coaching or have moved onto other things but the bond that I have created with them, thanks to gymnastics, allows me to remain close friends with them all as I'm sure I will continue to be in the future.

Who's your sporting hero?
I would consider my sporting hero to be McKayla Maroney who is an ex American gymnast and was part of the "Fierce Five" who were a group of 5 American gymnasts who were extremely successful. McKayla was an Olympian who won many medals throughout her career including several World Championships medals. I would consider her as my sporting hero because in the London 2012 Olympics she had a huge fall which could have knocked her back in her career but instead of giving up she continued on and continued to be successful. Aswell as this she was extremely successful for a gymnast of her age being only 17 when she competed in the Olympic Games.
What would you class as your greatest achievement so far?
My most memorable achievement was at a very early age in a club competition where I won 3 gold medals in a 2 piece competition (compete only on Vault and Floor.) These medals were for gold on each of these pieces as well as a gold medal all around. I think that I would consider this my greatest and most memorable achievement as it was once of my first ever competitions and I didn't really know how capable I was within the sport of gymnastics. This was the first time that I realised that I could really have a talent for the sport and it gave me motivation to continue to work hard and progress to try and do better each time.

What would be your advice to younger kids looking to move from coached programmes into competitive side of things?
My advice to younger children looking to move towards competitive gymnastics would be to go for it! This choice was the best decision that I ever made for myself and developed more of my personal and social skills than I ever would have imagined it to. Although moving towards being a competitive gymnast does require hard work and dedication, it is enjoyable and definitely shows rewards. Even if a child's aim is never to go to a regional or national level, there are smaller more accessible competitions for all skill levels that will help to boost confidence levels and give the gymnasts a sense of achievement, no matter how well they do.