It's National Pizza Day: have a look at this tried and tested gluten free recipe
9.2.18

Today is national pizza day, a staple favourite worldwide. Yes, the winner of all gastro guilt worldwide has its very own day. Let's face it, there are very few people out there who don't enjoy a slice now and then, everything in moderation of course.
Gluten related intolerances and illnesses are on the rise much to the despair of many dough lovers, including myself. Fear not gluten-free dwellers, for we have found and tested the best 'free from' pizza base around. We can all enjoy a little slice of national pizza day!
Toppings are a very personal affair so I will leave you to make that decision (I took the vegetarian route). Have a look at the recipe and outcome below:
Ingredients
250 ml semi-skimmed milk
1 x 7 g sachet of dried yeast
2½ teaspoons caster sugar
400 g gluten-free bread flour, plus extra for dusting
1 teaspoon xanthan gum
1 teaspoon fine sea salt
1 large free-range egg
Olive oil
½ teaspoon bicarbonate of soda
2 teaspoons cider vinegar
Method
1.Preheat the oven to 220ºC/425ºF/gas 7. Place a pizza stone or a large baking tray in the oven to heat up.
2.Heat the milk in a small pan over a low heat until lukewarm, then place 50ml into a jug with the yeast and sugar. Mix well, then set aside for a few minutes until starting to bubble.
3.Meanwhile, sieve the flour, xanthan gum and salt into a large bowl, then make a well in the middle. In a separate bowl, combine the egg, 3 tablespoons of olive oil and the remaining milk, then pour it into the well, along with the yeast mixture. Gradually bring the mixture together with a fork until it forms a smooth dough.
4.In a small cup, combine the bicarbonate of soda and vinegar, then quickly knead it into the mixture. Place the dough into a lightly oiled bowl, cover with a damp tea towel, then leave to prove in a warm place for around 1 hour, or until doubled in size.
5.Once doubled in size (or near enough, we are talking gluten free here), divide the dough into four equal-sized pieces on a flour-dusted surface. Roll out until roughly 30cm in diameter and 2mm thick. Place the pizza bases onto the preheated pizza stone or baking tray (you'll need to do this in batches), then add your toppings.
Tried and tested: I found that a slightly thicker base worked really well. I also swear by garlic butter: gluten free products can be dry, make some garlic butter prior to creating your pizza (roast three cloves of garlic in the oven, remove skin and using a garlic press add to unsalted butter and blend.) Once the base is rolled out place small amounts of the butter evenly over the dough and proceeded to add toppings.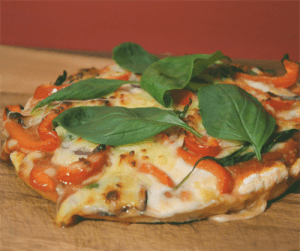 For the full recipe, courtesy of Jamie Oliver, have a look here: http://www.jamieoliver.com/recipes/recipe/gluten-free-pizza/