Pancake Day needn't be served with a dollop of guilt this year
13.2.18

Pancake Day has been celebrated for over a thousand years, so why break the tradition of a lifetime? This is one of only a handful of days that we are encouraged to devour seemingly unhealthy, yet utterly delicious food. This year you can dine on pancakes until your hearts content.
Our team have put together a healthy pancake recipe that you can enjoy without the guilt. Have a look at our tried and tested recipe and enjoy some homemade and healthy pancakes.
Standard recipe:
200g flour
3 ½ teaspoons baking powder
1 teaspoon salt
1 tablespoon caster sugar
300ml milk
1 egg
50g butter, melted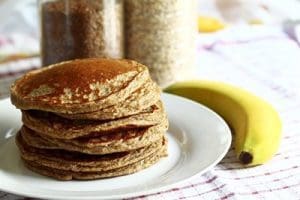 Why not try our recipe for pancakes with added super-food powers:
This pancake recipe is gluten and dairy free and using coconut flour, which is high in protein and fibre, will give you an added boost. Healthy for the heart, and healthy for your cholesterol, coconut flour is widely regarded as a superfood.
75g coconut flour
2 bananas
Pinch of salt
200ml semi-skimmed milk/almond milk or oat milk
1 egg
50g coconut oil
Method:
1) Place the ingredients into a large bowl
2) Blend the contents of the bowl together
3) Put a large pan on medium heat, add a little oil or butter to stop the pancakes sticking, and pour pancake batter into small circular shapes
4) Check and flip until lightly browned on both sides and then serve, either as it comes or with your favourite topping