LGBT History Month: recognising some of the greatest LGBT pioneers to leave their mark on sporting history
17.2.21
This February is LGBT History Month, an annual event which aims to shine a spotlight on LGBT history and culture. It's a celebration and an opportunity to reflect on progress made and challenges yet to overcome.
Historically, being able to express oneself authentically has been difficult especially in the world of sport. However, many pioneers have ensured that all sports are, and always will be, for everyone!
Sport is no stranger to LGBT athletes and now, more than ever, is great time to look back at those gay, lesbian, bisexual and transgender icons who made history as sporting legends, helping to break down barriers and bring LGBT equality into the limelight.
Award-winning charity Sport Aberdeen is committed to creating opportunities, inspiring people and changing lives through sport and physical activity, with the belief that everyone, regardless of age, gender, sexual orientation or ability should have access to sport.
Lisa Evans – Footballer
Lisa-Evans-By-Ailura-CC-BY-SA-3.0-AT-CC-BY-SA-3.0-at-httpscommons.wikimedia.orgwindex.phpcurid50827894-1
Born in Perth, Lisa Evans began her successful footballing career guns a' blazing. During her time at Glasgow City, the club won the Scottish Women's Premier League four times between 2009 and 2012. She later played for German teams such as Bayern Munich and currently plays for the women's Arsenal team. Evans also enjoys a major role in the Scottish national team, having scored her first international goal against Northern Ireland in 2012. In 2019, she scored Scotland's first world cup goal when the team went head-to-head with footballing rival England.
Tom Daley – Diver
Tom-Daley-By-Jim-Thurston-Flickr-Tom-Daley-CC-BY-SA-2.0-httpscommons.wikimedia.orgwindex.phpcurid56839820-1
Best known for being a bronze medallist during the 2012 London Olympics, Daley began his GB career in the 2008 Summer Olympics in which he was the youngest competitor aged just 14. He ranked number one in the Aquatics Championship and won two gold medals during the 2010 Commonwealth Games. View Tom Daley's YouTube channel here.
Nicola Adams – Boxer
Nicola Adams By Richard Gillin from St Albans, UK – Joshua Anthony and Nicola AdamsUploaded by Kafuffle, CC BY-SA 2.0, httpscommons.wikimedia.orgwindex.phpcurid=21380503
Adams competed from 2017-2019 and retired with an undefeated record in the ring, winning Olympic gold medals at London 2012 and Rio 2016. The Independent Newspaper named her the most influential LGBT person in the UK, and she is also considered one of the most influential African/African-Caribbean descent Britons. She was the first openly LGBT person to win a gold medal for boxing, playing a leading role in Team GB's success in 2012. She also participated in Strictly Come Dancing in the first same-sex pairing!
Harrison Browne – Ice Hockey player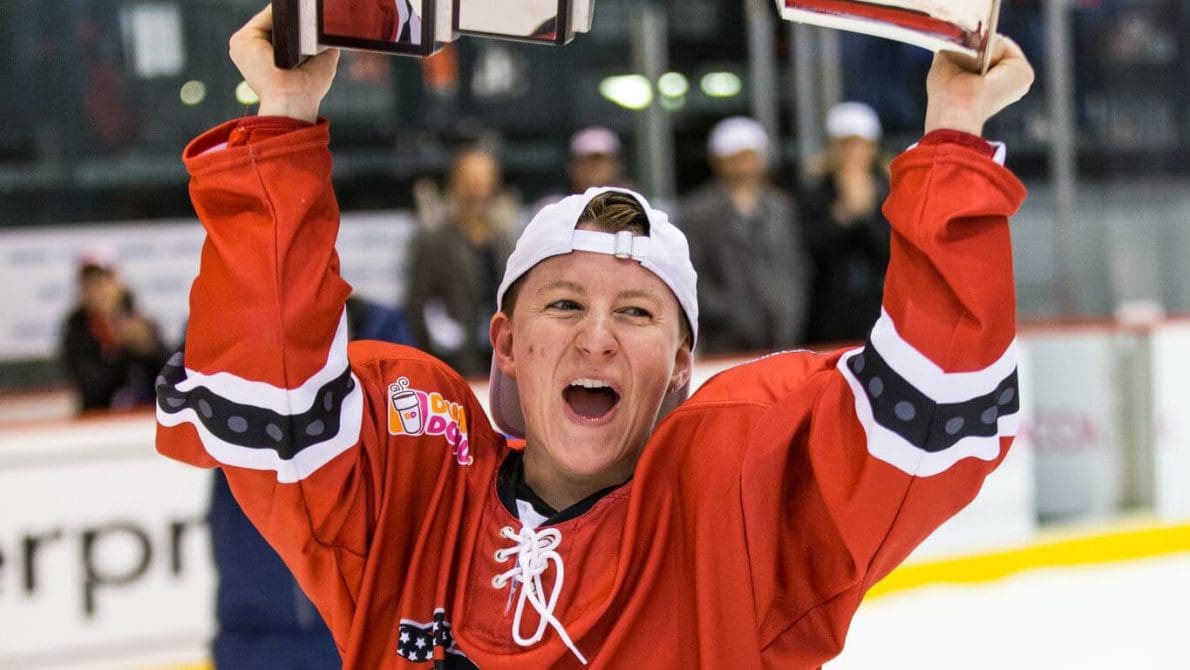 Harrison Browne by Michael Hetzel
Having been assigned female at birth, he competed in female tournaments before coming out as transgender in 2016, making him the first openly trans person in a professional team sport during their career. Browne won the Isobel cup with the Buffalo Beauts, making him the first openly trans person to win a national championship in a team sport. Browne retired in 2018 and is now able to transition. He is also pursuing a career as an actor and advocates for transgender visibility.