New Year, New Goal, New kit
22.1.18
Will, Shop Manager from Run4It shares his top tips to ensure you have the correct kit to get started.
Will has been running for the last 3 years now and focuses on longer, off road races. His running career started in South Africa and has completed 2Oceans and Comrades ultra marathons. Closer to home he was 12th in the Highland Fling race in 2017 and completed his first 100mile race that covered the length of the South Downs finishing a little over 20 hours.
Will is also the shop manager at Run4It in Aberdeen and the team fully embrace the ethos of 'improve your run' whether you are an experienced racer or just getting started. Talking non stop about all things running and learning from every runner along the way.
—
Firstly, Happy New Year to everyone from Run4It!! Hope you all had a brilliant festive period, managing to overindulge whilst possibly keep your running ticking along at the same time? If not don't panic and there is still plenty of time for you to get set for the BHGE 10k on 20th May and we are here to give you some top tips for ensuring you have the correct kit for getting you through the training as well as making your race as enjoyable as possible. Starting 2018 off on the right foot will give you the base fitness for those summer races
1. Shoe MOT
The first step before you take a step is to check your current footwear. Everyone has heard the estimated 500mile lifespan of a shoe but realizing how quickly you can achieve this in a pair of shoes often goes unnoticed. By calculating your average weekly mileage and how long you have had the shoes for you should be able to get to a rough figure of how far the shoes have carried you. Remember, even if you are wearing the shoes at the gym or walking around in them will all contribute to the wear and tear. If the shoes are over a year old or if you are running regularly in a single pair of shoes then it may be time to consider an upgrade.
The midsole of a shoe (cushioning, spongy bit!) deteriorates during a run and over time the material loses strength to return to its usual state. This is what then leads to a shoe feeling flat and tired. Once these materials have compressed, they lose the ability to absorb shock on impact and these forces then pass through your body to a far greater extent. This then increases the likelihood of injury – which is obviously less than ideal in January!
If you think your shoes have past their best or may be on their way out then drop into your nearest Run4It shop and we can take a closer look for you. Don't worry we have seen it all before but I think the record to beat is a pair of 14-year-old New Balance shoes! We have also sent many people away with their current shoes if they are still effective but it gives you some piece of mind that they will still do the job for you.
If you have never had a pair of running shoes fitted for you before then it's strongly recommended to go through our +runlab process in store. Through this assessment we aim to match your running style, biomechanics and preferences with a selection of shoes that meet the demands of your body. The shoe industry consists of huge variety and the +runlab process can help whittle this down for you. Even if you have been through the process before, if there have been any notable changes in your lifestyle or there have been niggles or injuries, it may be worth going back to the process to review. My personal analysis has changed notably over 18 months and so it is always worth going back to see if there may be a different shoes to consider.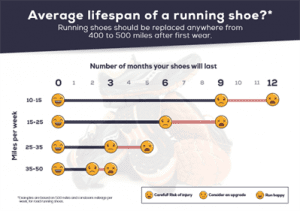 2. Winter is coming still here!
January often kick starts the fitness and health regimes and it's great if you can get out to train at this time of year. It will improve your base fitness and give you a head start for the runners that hold off for the fairer weather. It is important to remember the safety at this time of year while it is still dark in the mornings and evenings. High-viz clothing and lighting will still be pertinent. If you run off road or in areas of poor lighting then you may also need to consider a headtorch so that you can avoid any accidents.
Staying warm and dry in the cold winter and wet spring will also make you far more likely to get out and train. Being comfortable is a big factor to the enjoyment of training and wearing the right gear will allow you to clock the miles in any conditions. Our new season ranges have exactly that in mind and we have brands from Ronhill to Puma, Gore to Inov8 so there is something for everyone, in any condition. One of my favourite pieces of kit is a Buff – very versatile but great to keep head and ears warm on cold, windy days. They also double as a sweatband or scarf and I will often go out wearing 2 or 3 on very cold days.
3. Embrace technology!
January sales provide a great chance to save on electronics and a great way to keep track of your training is by using a Garmin GPS watch. These can be great tools for monitoring your fitness, watching your pace and even loading training sessions onto the watch. Linking up to a social media platform such as Strava can allow you to meet (stalk!) other runners, find new routes and also gauge how your fitness levels are progressing. It is a great piece of kit to invest in! Come race day they will also allow you to pace your race smartly so you don't set off too hard. The only thing I would add to this is to not become too reliant on all the watch data coming your way! At the end of the day running should be enjoyable and a chance to switch off after a busy day so don't get too sucked into the data all the time.
4. Master the art of Self-Massage
Running hurts – before, during and after. I think that's partly why some of us enjoy it. This being said it should be a 'good' ache as opposed to an injury. Muscles and joints are going to take a beating so remember to show them some TLC and practice some self-massage therapy. This is a wallet friendly alternative to sports massages and can really improve your running. Using a foam roller or massage ball will really help with recoveries and warm ups as they help get the muscles primed for the next session. By addressing tension early and keeping muscles supple will minimize the chances of excessive tightness and also boost blood flow to the area to assist with flushing out any waste products. This will help restore your muscles to normal quicker. It is often uncomfortable but once you get into a routine of doing this regularly then you will be grateful of the benefits.
This covers most of the kit that you should be considering when training from now until the big day on the 20th May. If you have any questions or want to chat about anything running related drop into one of our shops and the teams will be more than happy to help. Keep an eye out for running events and yoga classes hosted at the shops via our Facebook channels as well. Enjoy your running between now and May and look forward to seeing some of you in the shop.
Will Stewart, Shop Manager at Run4It
Get your kit sorted! Get 15% off a pair of shoes at Run4It Aberdeen when quoting the BHGE 10k BLOG.
Valid from January to 28th February 2018.
T&C's apply.