Steph's Summer of Sport Week Three
22.7.19
After last week's exciting weekend of sport, with a particular highlight being both the men and women's Wimbledon finals, I was feeling inspired to play some tennis.
I decided to kick off week three of 'Steph's Summer of Sport' by visiting Aberdeen Tennis Centre on Westburn Road. The centre is open seven days a week and offers both indoor and outdoor courts as well as classes for all ages and abilities. In addition to tennis, they also offer fitness classes including combined pilates and yoga class and a high intensity interval training class which takes place every Tuesday morning at 6:45. This class is perfect to kick starting your day- who wouldn't feel great knowing your exercise is done before most people are even awake!
After looking through the wide range of classes Aberdeen Tennis Centre has on offer, I decided to try Cardio Tennis. Cardio Tennis is, in short, lots of fitness drills disguised by simultaneously playing tennis. This is what I enjoyed because the tennis almost hid the cardio element to the class. The class began with David, our coach, telling us the only two rules: The first is to always keep your feet moving (perfectly fitting for the cardio element) and the second is to have as much fun as you can. Afterall, getting active should be something that is enjoyed!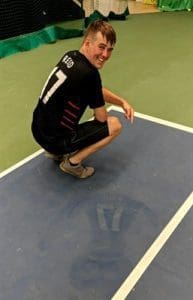 Aside from the activity itself it was the participants, and David, who made this class so enjoyable. There were people of all ages and abilities, from 19 to over 60. One of the men in the class is a member of the Sport Aberdeen Active Lifestyle's programme and regularly attends classes at Aberdeen Tennis Centre. David was very knowledgeable and encouraging and this is clearly recognised, with one participant saying, "He's why we keep coming back" and I can see why!
What I thought was really nice, was that after Cardio Tennis finished, the participants socialised over a cup of coffee or juice. Just like Outdoor Bootcamp, a sense of community and belonging was clearly there. This appears to be a running theme throughout all the fitness classes that Sport Aberdeen has on offer.
I will definitely be returning to Cardio Tennis for both the huge fitness benefit and the sociable side. David told us that a difficult Cardio Tennis session could burn up to 1000 calories – if this isn't motivation to get active then I'm not sure what is!
With two Cardio Tennis classes running per week I hope that some of you can squeeze an hour of Cardio Tennis into your busy schedules to go and get fit whilst working on your volley!