Using a 10k to train for bigger races
5.3.18
Health and Wellness Advisor, Briony Noble shares her tips for using the BHGE 10k towards training for bigger races.
The BHGE 10K count down is well and truly on! With all the training you are doing I'm sure you have been bitten by the running bug, you may even be starting to think about doing more races later in the year.
Well look no further for some advice on how to use this 10k race to run more races or longer distances.
Run Longer
Okay I know this sounds relatively obvious but you need to run for longer, over the weeks of training for the BHGE 10k run you should be trying to increase the length of time you run by about 5 minutes at a time until you get to the length of time it will take you to complete the race. It's all about taking small steps to progress to the end goal which may be running longer races and breaking it down by adding on small amount of time to your runs will give your body time to adapt and improve consistently instead of pushing to run for a long time when you aren't used to that type of training which leads to an increased risk of injury.
Tempo runs
These runs can be mixed in with longer slower runs and are over a shorter distance, but at a higher intensity than your normal race pace generally last from around 20-40 minutes at a pace that's comfortably harder than your race pace although avoid doing these runs at all-out effort. Training like this helps your body to clear lactic acid from the blood stream quicker, meaning you can run for longer without tiring or feeling that burning sensation in your muscles.
Start adding these tempo runs into your training for the BHGE 10k to try and improve on your time and speed. Then if you add in some longer slower distance runs you will be well on your way to running longer distances.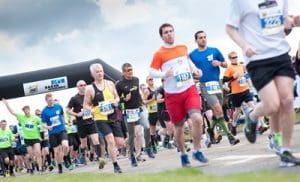 Long distance run mind games
It can be daunting running especially if it's further than you have before, but remember you can do it! When you are training and doing longer runs try to break them down mentally for example focus on one mile at a time, or think about it like 2 x a distance you can run easily. If you think about it like that it already becomes a bit less scary.
Lastly always remember the progress you have made be proud of the steps you have made and let that motivate you to keep going.
Until next time Happy running!