Lois Barnard; my journey
1.10.19
Scottish Women and Girls in Sport Week 2019
Leadership in Women and Girls in Sport: Leaders Behind the Leaders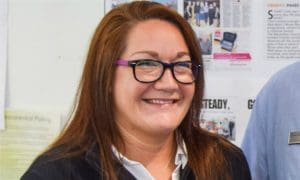 Lois Barnard is an Operations Manager at Sport Aberdeen and has been with the charity for over ten years.
Currently responsible for six venues across the city, Lois is a leader who will quite often be found working behind the scenes at Sport Aberdeen; but her role is an important one which draws on a wealth of experience gained from working within the sport and leisure industry.
Lois started her career as a lifeguard at Bon Accord Baths in August 2007 and has steadily progressed through the ranks at Sport Aberdeen ever since. Her roles over the last 12 years have included: Supervisor, Training Facilitator, Assistant Manager and most recently the Operations Manager for some of the city's most popular sports centres.
As an Operations Manager for various venues and swimming pools, Lois' day to day work ensures that opportunities to participate in sport and physical activity are afforded to anyone regardless of their background, age or ability with some of her venues located in Aberdeen's most prominent regeneration areas.
When speaking about the opportunities she has been presented with, Lois said:
"The training and support that I have received in developing my career from lifeguard to Operations Manager has given me the experience, skills and confidence I need to progress and take on new opportunities."
Nickie Scorgie, Head of HR and Organisational Development added:
"Sport Aberdeen provide an equal and inclusive environment, providing relevant training and opportunities for anyone in any role, regardless of gender, to be able to shape their future. We always aim to grow and develop our staff, encouraging and supporting them to progress their career in the direction they choose."
Sport Aberdeen is committed to creating opportunities, inspiring people and changing lives through sport and physical activity, whether that be on the track, in the gym or in the office.