General News:
Goals Galore for Bucksburn ASN
3.6.15
The Bucksburn ASN Wing team were invited to compete in the National Learning Disabilities School Final last month where there was no shortage of goals!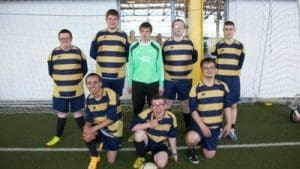 The team were chosen to play in the competition by the Scottish FA after topping the Northern League and being crowned champions.
The boys that were chosen to play for the team were: David Finch, Sean Rennie, Dylan Rae, Shaun Black, Calvin Archibald, James Ede, Owen Stephen and Jack Allan.
With teachers from the school accompanying the team and coaches, the finals took place on Wednesday the 20th of May. 12 other teams from across the country attended to create two groups of 6 where each team played each other once, with the first and second team reaching the semi-finals.
Bucksburn opened their first game against Mary Russell and drew 1-1 before matching that score line against Carrongrange.
The third game brought the first win for the team against Balwearie, picking up a great 2-0 victory. The fourth game was against Lanark where they recorded their only loss of the day, 2-0.
One of the highlights came in the final game against Woodlands where the side won convincingly, 3-0, with goalkeeper David scoring the first goal from his box.
Unfortunately Bucksburn just missed out on the semi-finals but they gave more than a good account of themselves and did their school and indeed Aberdeen proud. Their efforts were rewarded when they were presented with the Scottish FA National School League 2014/15 Finalists trophy.
Abercorn were the eventual winners of the day, a big congratulations to them and Bucksburn ASN Wing team.