General News:
Youth Games a Triumph
6.6.15
The 2015 Aberdeen Youth Games were a resounding success.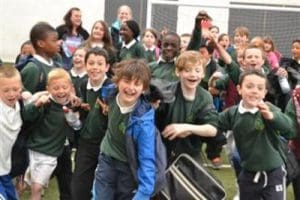 Held on the 29th of May and host to over 1200 children, the day went off without a hitch and was enjoyed by all.
Proceedings at the Sports Village were started by the Lord Provost with Sir Ian Wood also taking part.
The day was packed with a number of sporting activities for the kids including, badminton, tennis, athletics and more. 38 schools attended culminating in an exciting day of skills based sporting challenges and activities.
Youth Games Ambassadors Ben Kilner, Snowboarder, and hockey player Leigh Fawcett were also in attendance meeting pupils and getting involved.
"Today's been really positive" said Kim who is preparing for the 2016 Rio Olympics, "so many kids are here and all looking like they're having a good time learning new skills."
They took every opportunity they had to speak to often star struck children including the finalists and winner of the medal design competition, Ahra Magaji (9), a Primary 5 pupil at Middleton Park School.
"Today has been great" said Ben who is nearing recovery from a broken pelvis, "I've been asking the kids how they are getting on, what schools they are from and they all seem really happy. They've all asked how I got my medal so I've had to tell the same story a few times!"