General News:
Sport Aberdeen's Active Schools host action-packed day for primary pupils
9.2.18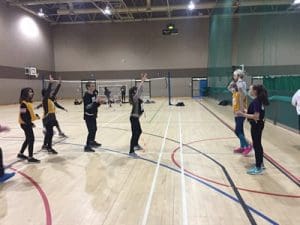 As part of Ashley Road Primary School's health week, Sport Aberdeen's Active Schools coordinators arranged a sport 'Taster Day'.
The action-packed sessions took place at the Beach Leisure Centre and the Linx Ice Arena and saw almost 50 primary 7 pupils attend the event.
Each pupil received a 30-minute taster of the following, alongside an ice skating session at the Linx Ice Arena.
Badminton delivered by badminton Scotland
Netball delivered by Netball Scotland
Volleyball delivered by Aberdeen Grammar School Volleyball Club
Basketball delivered by Panthers Basketball Club
45 minutes ice skating at the Linx Ice Arena
For more information on Active Schools Aberdeen, click here.