Hazlehead Pines Golf Course
Hazlehead Pines is described as a "fair test of golf" and you can bask in some great views of the city from the 12th tee and the green on the 17th.
Main Greens are now in play at Hazlehead Pines Golf Course.
We would like to make members and visitors aware that essential maintenance is ongoing to address issues with the greens on the Hazlehead Pines Golf Course. Further information can be found here. We thank you for your continued support while this work is undertaken.
We would like to advise members and customers that a programme of renovation works on the main greens will be carried out on each of our 18-hole golf courses over the coming weeks.
Works being carried out will include:
🏌️ Scarification
🏌️‍♂️ Aeration
🏌️‍♀️ Over seeding
🏌️ Top dressing
We will be using up to two temporary greens as we move around the course during the works.
Programme of dates:
⛳ MacKenzie Championship Golf Course: It had been our intention to complete the fairway works by 17 September, however due to unforeseen circumstances, this work will now carry on from Monday 20 September to scarify, sand and over seed the fairways. These works will also require a hole to be temporarily closed off while it is completed given the nature of work involved and ask that this is respected by all players.
⛳ Hazlehead Pines Golf Course: 20 – 24 September
⛳ Kings Links Golf Course: 27 September – 01 October
⛳ Balnagask Golf Course: 04 – 08 October
Thank you for your patience and understanding while these works are carried out.
Get in touch
Hazlehead Avenue, Hazlehead Park, Aberdeen
AB15 8BD
| | |
| --- | --- |
| Monday | 06:30-19:30 |
| Tuesday | 06:30-19:30 |
| Wednesday | 06:30-19:30 |
| Thursday | 06:30-19:30 |
| Friday | 06:30-19:30 |
| Saturday | 06:30-19:30 |
| Sunday | 06:30-19:30 |
Follow us
Situated at our Hazlehead venue, running alongside the Hazlehead 9-hole and the Mackenzie Championship courses, the Pines is more open and a little bit more forgiving than some of the other courses in Golf Aberdeen's prestigious portfolio.
Revamped in the early 1970s by Brian Huggett, Neil Coles and Roger Dyer, the Pines offers a gentler challenge than its big sister the MacKenzie Championship Course. It is shorter at 5735 yards Par 67, but most of its fairways are tree-lined and there is a good variety of holes with six par 3s and one par 5. The fairways are generous and the large greens inviting, but watch out for the numerous bunkers well placed around the course.
It is described as a "fair test of golf" and you can bask in some great views of the city from the 12th tee and the green on the 17th.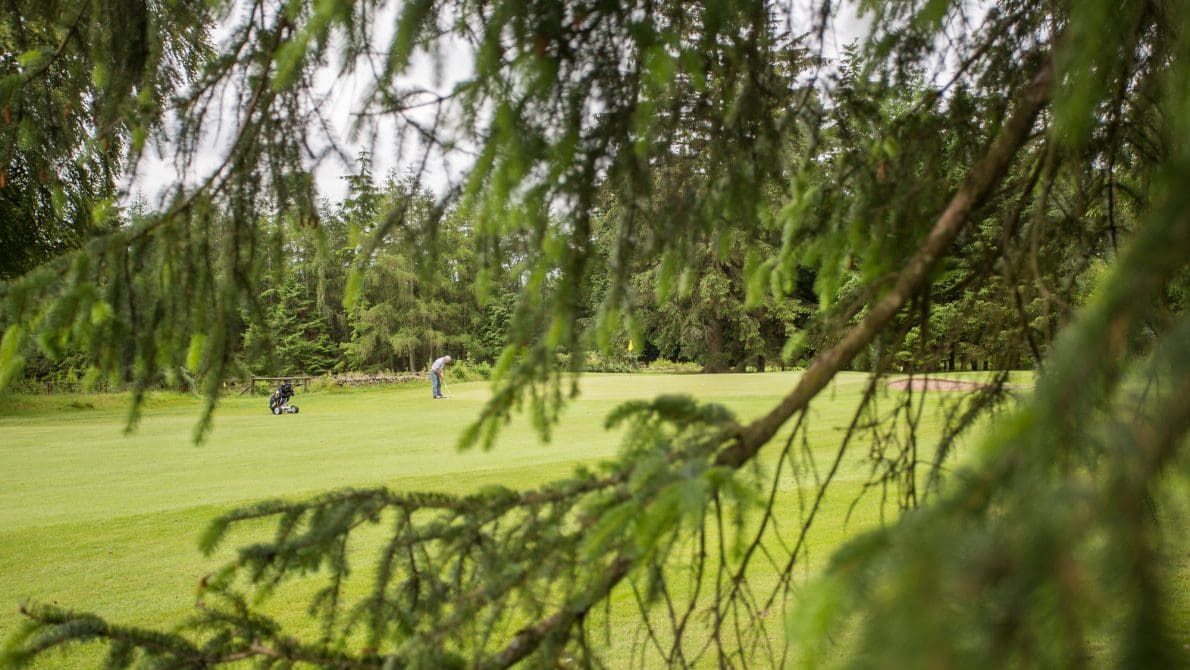 Whether you wish to pay as you play or purchase a season membership, we have a number of flexible options available. You can also take advantage of our great value Get Active 5 membership package which includes access to all our golf courses. You can book online or if you're looking for something a bit different or a group day out, just contact us and we'll tailor something to suit.
For more information on everything Golf Aberdeen has to offer, please visit our golf activity page.
Resources
Download our free course map and scorecard to print off and use whenever you need.
Course Flythrough
Take a moment to view the hole-by-hole flyover of the fantastic Hazlehead Pines Golf Course for yourself!