Getting geared up: training essentials for road running events
4.3.19
Before you take your position at the start line, the Run4It team have created a checklist of training essentials to help maximise your comfort and enjoyment out on the run.
Running Shoes
What a difference a shoe makes! Before you start munching the miles on the road, trails, treadmill or track, it's wise to invest in a good pair of running shoes to minimise your chances of injury and get more from every step.
Run4It stock shoes from 10 leading brands including ASICS, Adidas, Brooks, Nike & Saucony, so no matter whether you are hitting the road, trails, treadmill or the track, there will be a shoe that suits your running style and needs. For off-road runners, we follow a slightly different process, focused on finding the correct fit and level of grip.
They also offer a free gait analysis service, called +runlab and can recommend shoes with the right level of support and cushioning for you. The process is free and takes around 20-40 minutes. No appointment is required – just drop by and we'll get you sorted.
Technical Clothing
If the feet are comfortable, you need the kit to match. Wearing clothes made of technical 'sweat wicking' fabrics will help you stay dry and comfortable and prevent chafing over longer distances. We stock a wide range of clothing, from breathable t-shirts for less than £20 and twin shorts that prevent chafing and allow you to carry gels, to tights that offer great support, stretch and flex.
Run4It stocks a range of different styles of clothing from the likes of Ronhill, Nike, Puma, Salomon, Adidas, Crewroom, Gore, and Asics to offer the best selection of clothing for all runners.
New in for Spring 2019, we have Ronhill's Infinity range comprising of gear designed to provide you with 'comfort during every training and racing mile'. For ultimate comfort mile after mile, buy the high-wicking Marathon Tee, anti-chafing Marathon Twin Short and lightweight Marathon Waist Belt with 6 gel loops.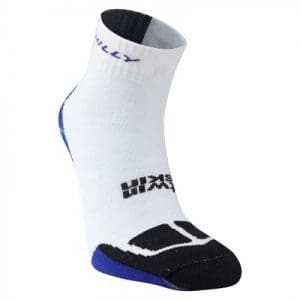 Running Socks
Proper non-cotton running socks will prevent all sorts of nasties including blisters, bruises and black toenails! Cotton holds moisture against the skin and increases friction, so always go for synthetic socks.
Run4It stock 3 different brands: Balega, Feetures and Hilly, so we have got all bases covered. Balega use Mohair in their socks so that they feel very cushioned and soft against the skin. Feetures use branded Lycra to support the arch of each foot and come in 3 thicknesses from max cushion to ultra-light. Hilly are best known for their Twin Skin, a double layer design to help provide extra protection against friction on the feet. We also stock their Marathon Fresh sock, which due the anti-bacterial treatment Polygiene, does not need to be washed after every run. All of our socks come with warranties so you can be confident that the socks you buy will last the distance.
A Good Sports Bra
This one is for the Ladies. Did you know that 80% of women wear the wrong size bra? Not good given that not wearing the correct sports bra profoundly affects your running gait and posture. It can cause up to 4cm of movement in the breast tissue and irreversible damage, and be seriously uncomfortable over the course of your run! This is why we consider sports bras an essential piece of kit. No matter your cup size, band size, or preference on bra style, we can help you find a sports bra that works for you! We stock Shock Absorber and Brooks sports bras and all our female team members are fully trained to carry out specialist bra fittings. Even the boys know their stuff!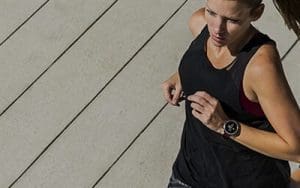 All Important Accessories
Small accessories make a big difference and are guaranteed to improve your run.
Belts and Waistpacks
Having the right waistpack will make a long run a lot more enjoyable because you will not waste energy holding on to something or be irritated by a poorly fitting belt. We stock a range of different sized and shaped waist packs with our most popular being FlipBelt. A FlipBelt allows you to store all your event essentials, including race nutrition, card and keys, and will not bounce around due to its unique design.
GPS Watches
Getting a dedicated running watch can be the key to getting the most out of your training. At Run4It we stock Garmin as the popular Forerunner range features a watch for every style of runner! Running watches can provide pace, distance and timing information and some will allow you to download detailed training plans to the watch and work out your VO? Maximum.
Nutrition
For those of you braving longer distances (half-marathon distance and above) perhaps before or after BHGE 10K it's worth having a race-day nutrition plan to bolster your performance. Practice your nutrition strategy beforehand during your long training runs, to get it spot on, on event day. We stock wide range of nutrition from energy gels, to bars, to jelly shot blocks and sports beans. It's best to try out different types and brands to know what best works for you and your stomach. Experiment with caffeinated verus non caffeinated options. And for the ultra-distance runners among you munching serious miles, wholefoods are a brilliant alternative to energy supplements. Small flapjack squares for slow release energy and jelly babies can be the perfect addition to your training nutrition plan.
For further advice call in to any of Run4It's 8 shops across Scotland or visit them online.