Indulge this Pancake Day without the guilt!
25.2.20
Pancake Day has been celebrated for thousands of years and we aren't about to break the tradition!
We have put together a list of guilt free, but utterly delicious, recipe ideas for you to get your teeth into this week. Have a look at our top picks and enjoy some homemade healthy pancakes.
Greek yogurt pancakes
Greek yogurt is packed full of health benefits, which is why it is the perfect substitution for milk or buttermilk. It's a great source of calcium, is rich in protein and contains probiotics, which help support a healthy balance of bacteria in the gut.
Ingredients:
175g self-raising flour
1 tsp baking powder
2 tbs of sugar (alternatively coconut sugar)
250g low fat Greek-Style yogurt
3 tbs semi skimmed/oat/almond milk
1 egg
½ tsp vanilla extract
½ tsp salt
Method:
Preheat the hob to a medium-high heat. Mix together all the dry ingredients into a large bowl. Pour in the yogurt, milk, vanilla and egg into the bowl. Make sure the batter is mixed well to ensure it is smooth.
Place a large frying pan over the heat and add non-stick frying spray, butter or coconut oil. Drop in 2 heaped spoonful's of the batter.
Cook for 1-2 minutes or until golden brown. Flip the pancake over and repeat on the other side.
Full recipe here: Greek yogurt pancakes
Banana oatmeal pancakes
Bananas are a well-known source of potassium and supply vitamin B6, fibre and carbohydrates, so why not add a little boost to your pancakes!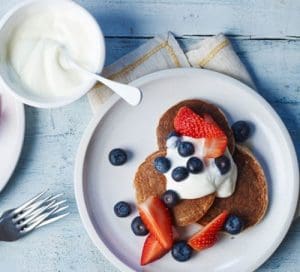 Ingredients:
125ml oat/almond/semi-skimmed milk
2 eggs, separated
1 banana
100g rolled oats
2 tsp baking powder
½ tsp of salt
Method:
Put the milk, egg yolks, banana, oats, baking powder and vanilla into a blender and blend until a smooth consistency
Whisk the egg whites until they hold stiff. Whisk 1-2 tbs of the whites into the mixture and fold in the rest.
Heat a pan on a medium – high heat and spray with non-stick frying spray or add a dab of butter. Pour 2 tbs of the patter into the pan until the base sets and bubbles start to appear. Flip the pancake and cook the other side for about a minute.
Full recipe here: Banana and oat pancakes
Gluten-free pancakes
For anyone who is gluten-free, don't worry we have you covered!
Ingredients:
200g gluten fee self-raising flour (top tip from a gluten-free pancake loving employee: try using gluten-free bread flour)
1 ½ tsp gluten free baking powder
1 tbsp sugar
300ml semi-skimmed milk/almond milk/oat milk
2 eggs
Method:
In a large bowl, mix all your dry ingredients together. In a seperate small bowl or jug, whisk together the milk and eggs.
Create a well in the dry ingredients and add in the wet ingredients. Whisk together until a smooth consistency.
Heat your hob to a medium heat and spray some non-stick frying spray or add a dab of butter. Add around 2 heaped spoonful's of the batter into the pan. Cook for around one minute or until golden brown on each side.
Full recipe here: Gluten-free pancakes