Online Zoom Meeting Guide
13.4.20
What is Zoom?
Zoom is a cloud conferencing app that combines online virtual meetings and group messaging into one easy to use programme.
Traditionally it has been used for businesses and conferences but since the closure of gyms and leisure spaces, Zoom has provided a way for our instructors to deliver their usual exercise classes to you without losing that sense of community.
Will I have to pay to use Zoom?
There is no cost to download the app or to join in with any of the Sport Aberdeen live classes via Zoom.
Can the instructor or other participants see or hear me?
No, no one else will be able to see or hear you. Before the Zoom meeting starts you have the ability to disable your mic and webcam. If you don't the host will disable all these at the beginning of the session using his host admin permissions.
What do I need?
An internet connection – broadband wired or wireless (3G or 4G/LTE)
Speakers and a microphone – built-in or USB plug-in or wireless Bluetooth
Joining a Zoom Class
Before joining a Zoom class on a computer or mobile device, you can download the Zoom app from the Zoom Download Centre.
Otherwise, you will be prompted to download and install Zoom when you click a join link, which we will share on the Sport Aberdeen Facebook page before a class begins and also on the Get active @ Home web page.
Step 1
Once you click the join link you will be given the following prompt to open URL:Zoom Launcher (below). Click this button and you will be taken to the next window.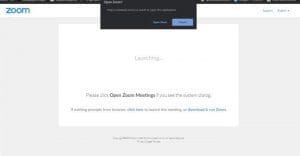 Step 2
If the instructor is yet to start the class, you will be given the option to test your computer audio whilst you wait. (See below)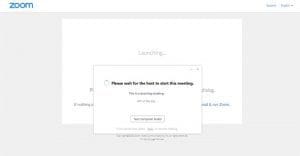 Step 3
Here you are given the option to make sure your audio and webcam settings are working correctly ahead of the session. (See below)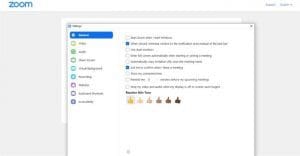 Step 4
If the instructor is logged in and waiting to start the class, you will be able to join the waiting room. Once the instructor is ready to start, they will admit everyone in the waiting room into the class. Please note that we require participants to be in the waiting room five minutes prior to the scheduled start time. Please note that once the class has begun, the instructor will not be able to grant anyone else access.