Supporting our young carers
16.3.21
Young Carers Action Day is an annual event, organised by Carers Trust and aims to raise awareness of young carers and the incredible contribution they make to their families and local communities.
Sport Aberdeen works with targeted groups, utilising the positive physical and mental impact that participating in sport can bring about to create opportunities, inspire people and change lives. Young carers are one of the targeted groups of young people that Sport Aberdeen's Active Schools team work with, in partnership with Barnardo's Aberdeen Young Carers Service.
Meet Victor Omondi, Sport Aberdeen Active Schools Assistant:
"I am based full time within St Machar Academy where I work with young people to increase their physical activity, helping to improve physical and mental health and wellness. This is done through a one-to-one basis and targeted (small) groups, the Young Carers' Group being one of these.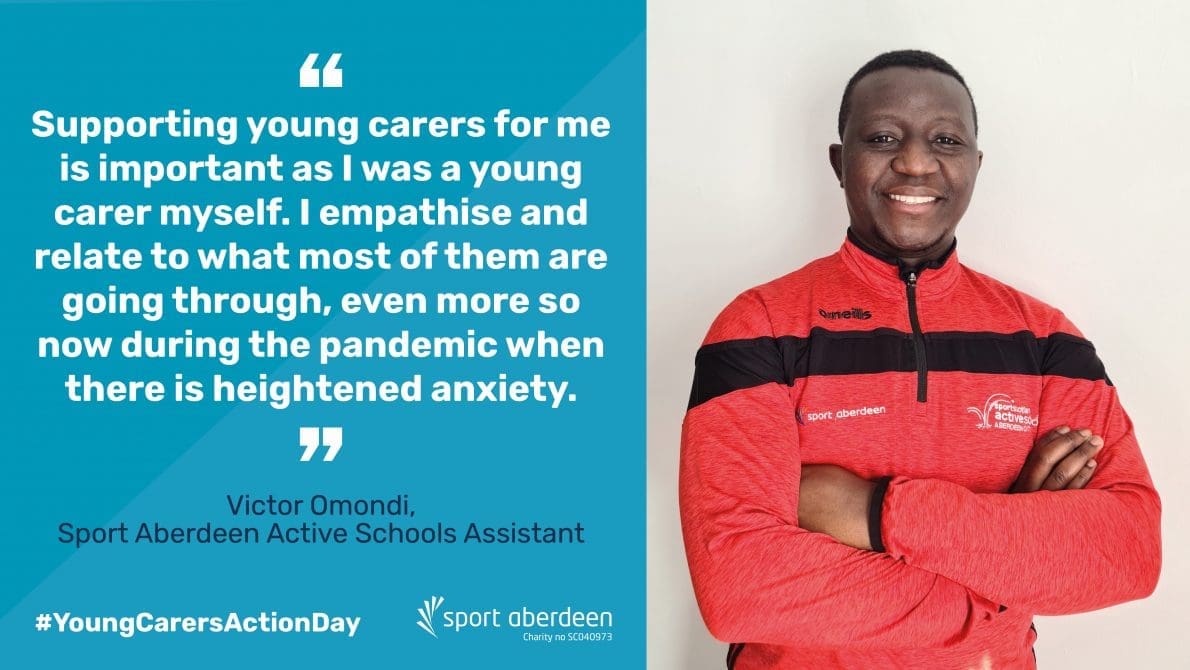 "Almost 35% of my time in school is dedicated to supporting young carers directly or indirectly through one-to-one or small group activities which include me taking participants through a variety of activities such as team building, fun activities, games, sports and classroom sessions with the aim of improving various elements of their health and wellbeing. Through the activities I also seek to develop their softs skills, e.g. resilience, communication and leadership skills.
"During the pandemic I have been interacting with the young carers virtually where we engage in various activities and games, discuss various wellbeing strategies and provide a listening ear to some. I've been supporting within the school hub where I worked with several young carers in physical activity and wellbeing activities.
"I am currently providing 'outreach support' by delivering Wellbeing Walks and serving as vital connection between the young people and school staff with specific focus on those that are less likely to engage in physical activity."