Top 5 places to run in and around Aberdeen
19.2.19
Training for a 10K means regular runs in the evenings and weekends. Whilst a jog around the block might be a good starting point, you are going to want to keep things fresh and might as well take in some of the beautiful, scenic locations on offer across Aberdeen and Aberdeenshire whilst you're at it.
Here's our top 5 favourite runs to get you started:
1. Kirkhill Forest
Kirkhill Forest is a forest situated to the north-west of Aberdeen, on the north side of the A96 between Dyce and Blackburn. Kirkhill is a working forest with a network of paths for running and walking, a permanent orienteering trail, and a mountain bike fun park.
2. Aberdeen Beach Promenade
What better way to prepare for the BHGE 10K than getting acquainted with part of the route you'll be running on the day?
The promenade stretches for three kilometres on two levels and offers uninterrupted views of the magnificent city, beach and Aberdeen Bay. If you fancy a change of surface you could also take to the sands for a while.
There is ample parking along the Promenade and plenty of cafes to stop in past to re-energise post run.
3. Kincorth Hill
Kincorth Hill Local Nature Reserve is a mix of heathland, gorse and woodland and is an ideal place to strengthen your legs ahead of race day.
The wide paths are colour signposted and have a good running surface. There are also several viewpoints with seats looking over the city and out to the hills at Deeside for when you decide to take a wee breather.
4. Cambus o'May
With a selection of trails suited to a wide variety of abilities, each with their own beautiful views, Cambus o'May is a location that will have you coming back for more long after you've finished your training.
If you really want to take it really easy, there's a grand view of Deeside's mountains just from the car park alone.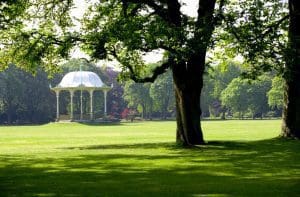 5. Duthie Park
This is an ideal place for beginners to start their training. With wide sweeping paths and smooth slopes you can slowly increase the number of laps of the park as you get more comfortable with your abilities without worrying about encountering any challenging terrain or hills.
This is a nice and central location within walking distance for town and plenty of parking if you are coming from further afield.